94.9 WDKB is excited to recognize our Hometown Heroes! Each week, we will highlight First-Responders, Nurses, Teachers, Good Samaritans, and more for all they do in the places they live and work in DeKalb County & Northern Illinois. Our Hometown Hero this week is:
94.9 WDKB presented this week's #HometownHero award to:
Emily Kvasnicka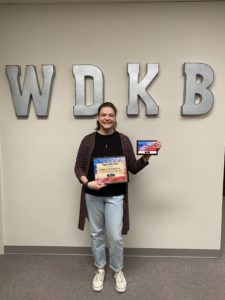 Thanks to Jil from Sycamore for nominating Emily. She said: 
"Emily is the Recreation Department Coordinator at Opportunity House. Emily's role is to make sure our clients are able to participate in recreational activities. She creates, plans and executes these activities with passion and energy. She strives to be sure all of our clients are included in something each month. From Movin & Groovin dance class to going on outings to plays, hikes and museums.She has created classes that she was told when she started would not do well. For example, yoga. Over a year later our clients could be teaching the class! They have gotten so good, strong and increased their abilities. Our motto is ABILITY NOT DISABILITY. As her assistant I see it is so much more than a job to her. Her passion and continue to push boundaries so our clients can be the very best. Follow our Opportunity Recreation Department page on Facebook. You can see a little glimpse of all the amazing activities she creates & executes. Opportunity House is truly lucky to have her running recreation. At the end of the day, the biggest joy she has is the clients thanking her and getting those hugs. Because they are getting to enjoy all the fun things life has to offer! I am so lucky to be by her side on this journey. We say after every activity…this is the best job ever!"
If you know someone doing good around DeKalb County, nominate them to be our next #HometownHero at 949wdkb.com/hometownhero
---
Nominate someone that you believe is helping to make DeKalb County a better place and they could be featured as our next Hometown Hero!
---
Check out some of our previous Hometown Heroes!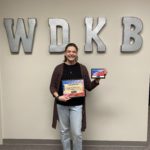 94.9 WDKB presented this weeks #HometownHero award to: Emily Kvasnicka Thanks to DeAnna from Sycamore for nominating Emily. She said: "Emily is the Recreation...
Read More