94.9 WDKB Hometown Hero with T-Mobile
94.9 WDKB and T-Mobile are partnering to recognize our Hometown Heroes! Each week, we will highlight First-Responders, Nurses, Teachers, Good Samaritans, and more for all they do in the places they live and work in DeKalb County & Northern Illinois. Our Hometown Hero this week is:
Dustin Miller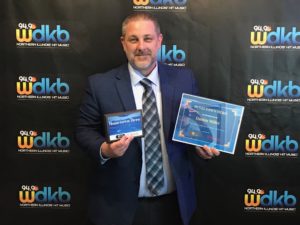 Dustin was nominated by Chris Jewell.  Chris Wrote:
Dustin amazes me with how active he is in the Dekalb County Community.  Dustin works for Thrivent Financial in downtown Dekalb as a Financial Professional.   He is a single father of 2 extremely active kids but still finds time to have a huge impact on the community he lives and works in.  During the soccer and baseball seasons, you can usually find Dustin on the field 3+ days a week, volunteering his time as a head coach for at least one, if not both of his kids' teams.  Over the last 9 years he has been a volunteer coach for Dekalb AYSO, Waterman Rec. Baseball, and Hinckley Big Rock Youth Soccer League.   Dustin was a volunteer Fire Fighter for Waterman Fire Dept for 5 years, before he took on his current role as a Trustee for Waterman Fire.  He has volunteered his time as a Trustee for almost 3 years.  During the peak of Covid season, Dustin volunteered his time to do "pizza drops" for all the Sycamore and Dekalb Fire Department stations, as well as partnering with his church to do pizza drops for those who needed some encouragement during that season.  Dustin is also highly active volunteering in his church, helping with various projects like hanging dry wall, painting, laying carpet, doing cleanup days, and volunteering on Sunday mornings for church services.  He has also been known to help with originations like Crossroads Christian Youth Center (Big Rock) during their Summer Camp and Pregnancy Information Center (Aurora) for their various fund-raising events.  Most recently, he volunteered his time to provide pizza to the City of Dekalb Streets Dept snowplow drivers as a Thank You for keeping the roads open during the incredibly challenging winter.  Finally, being a business owner, Dustin is very active with the Dekalb Chamber.  Last week he volunteered his time to help with the Clean Up Dekalb project that was through the Leadership Academy at the Dekalb Chamber.   Dustin is a huge inspiration to the community.  He never lets the "I'm too busy" excuse get in the way of helping.  I am proud to be his friend and proud to nominate him for this award.
---
Nominate someone that you believe is helping to make DeKalb County a better place and they could be featured as our next Hometown Hero!
---
Check out some of our previous Hometown Heroes!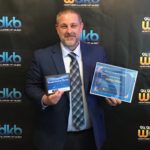 94.9 WDKB and T-Mobile presented this weeks #Hometown Hero award to: Thanks to Chris Jewell for nominating Dustin, Chris wrote: "Dustin amazes...
Read More