94.9 WDKB Small Business Development Workshop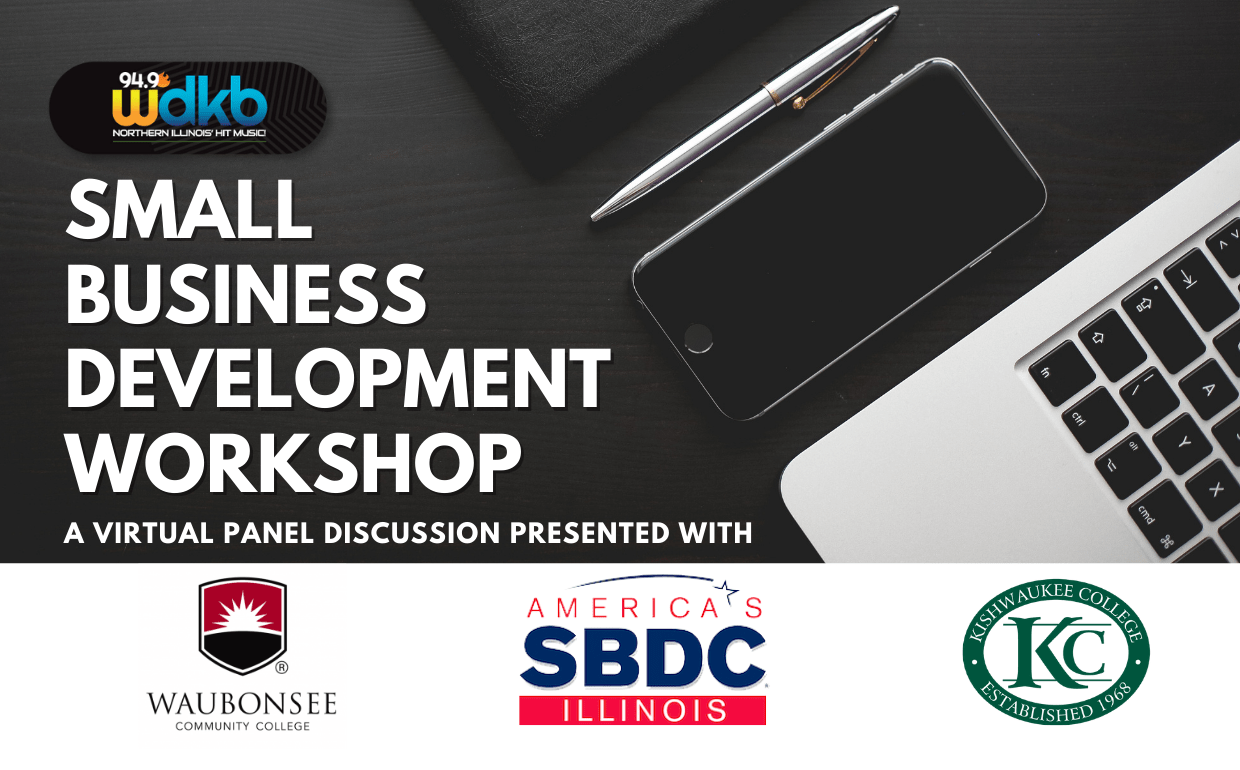 The pandemic we're existing inside has brought a lot of self-reflection for many of us. Are we on the right career path? Are we on the right life path? Are we looking for something more fulfilling?
While those are deep and thoughtful questions, sometimes you're just tired of the virtual rat race. Sometimes, your boss is still a jerk on Zoom or phone calls. Maybe you want to simply become your own boss.
But, you didn't know how to take that third step.
Third step? What about the first two? Well, since you're thinking about it, you've taken one step. The second step is getting over the fear that comes with making a bold move like this – fear of failure, fear of loss, or fear of the unknown.
Did you know that there's a great resource in the region? It's the Illinois Small Business Development Center at Waubonsee Community College in partnership with Kishwaukee College and it's nearly a one-stop shop for everything you need to know to start and grow a small business. And, many of its resources are available to you at no cost – unlike many of the "programs" or "courses" you see floating around social media these days.
In 2021, 94.9 WDKB has partnered with the Illinois Small Business Development Center to host a series of virtual events to give you a behind the scenes peek at life as a small business owner and operator. These panel discussions will be available for live viewing via the 94.9 WDKB Facebook page. We'll keep all the episodes archived for you to enjoy at your leisure, below! Check back on a regular basis as we continue to provide new panels.
EP. 6 – Pandemic Survival
The panel discusses ways to rise above the pandemic and continue to grow.
---
EP. 5 – Business Structure
The panel features Shawn Lowe – 94.9 WDKB, Mark Kerman – Siepert & Co. and SBDC's Dr. Jock talking about Business Structure.
---
EP. 4 – Non-Profits
The panel features Shawn Lowe 94.9 WDKB, Ben Bingle, SBDC's Dr. Jock Sommese and Alex Nevad from The Egyptian Theater discuss the importance of Non-Profit organizations and how they were impacted by the pandemic.
---
EP. 3 – Developing Your Digital Real Estate
This panel discussion features Kim DiGiovanni, Director of Sales at Midwest Family Broadcasting Northern Illinois, as she speaks about the importance of developing your small business' digital footprint.
---
EP. 2 – THE FIRST STEPS IN STARTING A BUSINESS
This panel discussion features Harriet Parker – the manager of the Illinois Small Business Development Center at Waubonsee Community College. She has more than 20 years of experience running successful start-ups and has been recognized as Illinois' 2014 State Star by America's SBDC for her work fostering success and growth among other small businesses in the region. Harriet is joined by Dr. Jock M. Sommese as they talk with us about the journey of the small business owner and gives tips on how to start, grow, and thrive as a local entrepreneur.
---
EP. 1 – START, SURVIVE, THRIVE
This panel discussion spotlights veterans of the SBDC's programs in various stages of their entrepreneurial journey. In this episode, you'll hear from: