94.9 WDKB presented this weeks #HometownHero award to:
Cary Singer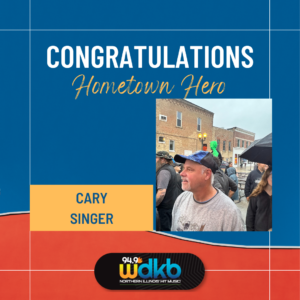 Thanks to Michael from Sycamore for nominating Cary. He said:
"I had the privilege of witnessing one of those beautiful moments at the Sycamore Annual Pumpkin Fest cake-cutting ceremony, which marks the beginning of a week-long celebration. My family and I were engaging in conversations with relatives and friends, while all around us, festival-goers eagerly awaited the cake-cutting and speech. Out of the corner of my eye, I noticed a young girl and her family in a state of panic. She had been eating a hotdog, and it had become lodged in her throat, leaving her choking and in distress.
That's when a retired police officer named Cary Singer, who I had been conversing with, sprang into action. Without a moment's hesitation, he performed the Heimlich maneuver for children on this frightened young girl. Her mother and other family members were understandably crying and flustered. Suddenly, the piece of hotdog dislodged from her throat and fell to the ground, and the young girl began to cry and breathe again. She was no longer turning blue.
My son, my wife, and our friends and family, all present at that moment, witnessed a true hero in action, and averted a potentially tragic incident. I moved to this community years ago because it embodied everything I ever imagined a wonderful town to be, like those depicted in storybooks and television shows. What makes this town truly special, however, is its people.
I want to extend my heartfelt gratitude to Officer Cary Singer. Even in retirement, he continues to perform miracles each day. My son, Michael, commented that if the sole purpose of his existence up to this point was to be there to save that young girl's life, it is a remarkable and beautiful thing. Moments like these remind us to hold our families a little closer and to be thankful for incredible individuals like retired Officer Cary Singer, who watch over us and keep us safe.
Let us also extend our gratitude to all first responders, whether on duty, off duty, or retired. You are the true heart of our community and what makes our country a wonderful place to live."