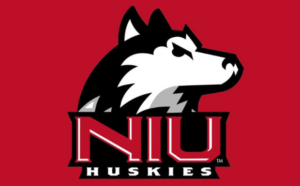 Northern Illinois University's football team has had eight student-athletes named to the 2023 Pro Football Focus Preseason All-Mid-American Conference Teams.  
The Huskies had three members named to the first team in wide receiver Trayvon Rudolph (Crete, Ill./Crete-Monee), guard John Champe (Brookfield, Wis./Brookfield East) and defensive tackle James Ester (Detroit, Mich./Cass Tech). Offensive Tackle Nolan Potter (Cedar Rapids, Iowa/Washington) and defensive tackle Devonte O'Malley (Midlothian, Ill./ Bremen) were part of the PFF preseason all-second team.  Running Back Antario Brown (Savannah, Ga./Beach), guard Logan Zschernitz (Spencer, Wis./ Spencer) and edge rusher Raishein Thomas (Racine, Wis./ Washington Park) were the three Huskies named to the third team.  
Rudolph, a First Team All-MAC selection in 2021, did not see action in 2022 due to injury but was named to the preseason Biletnikoff Award and the Paul Hornung Award watch lists prior to the 2022 season. In 2021 Rudolph led the Huskies with 892 receiving yards on 51 catches and seven touchdowns. He set the NIU and Mid-American Conference single-game receiving yards record with 309 at Kent State on Nov. 3, 2021.  
Ester was named to the first team after an impressive 2022 season. He started all 12 games for NIU and recorded 28 tackles, six tackles for loss and two sacks while also forcing two fumbles. Ester was named the Huskies' 2022 team MVP and was a second team All-MAC selection.  O'Malley is coming off a 2022 season where he was named to the All-MAC second team and recorded 36 tackles. He tied for the team lead in sacks with 5.5 and was second on the team with seven tackles for loss. Thomas led NIU in 2022 with nine total tackles for loss. 
Champe, Potter and Zschernitz anchored an NIU offensive line that led the MAC and was 10th in the nation with sacks allowed at just 1.0 per game. Potter was a first team All-MAC honoree by the league's head coaches last season with Zschernitz named to the third team. NIU was second in the MAC in rushing yards per game in 2022 with 190.4. Brown is NIU's leading returning rusher after posting 701 yards and seven touchdowns last year. 
Season, single game and mini-plan tickets for the 2023 Huskie home games are all on sale now 24 hours a day, seven days a week online at NIUHuskies.com/myhuskies or by calling the NIU Athletics Ticket Office at 815-753-PACK (7225). Season tickets provide the best overall value at as little as $17 per game for general admission seating on the West Side of Huskie Stadium ($102 total). Sit in the same reserved seat for all six games for just $144 (sections A, B, F) or $162 (sections C, D, E). There are two "Pick Your Pack" mini-plan options, including Saturday only and MACtion+Saturday option. See all the ticket prices and options, including premium experiences, here. 
Huskies on the 2023 PFF Preseason All-MAC Team
First Team 
John Champe, Offensive Guard 
Trayvon Rudolph, Wide Receiver 
James Ester, Defensive Tackle 
Second Team 
Nolan Potter, Offensive Tackle 
Devonte O'Malley, Defensive Tackle 
Third Team 
Antario Brown, Running Back 
Logan Zschernitz, Offensive Guard 
Raishein Thomas, Defensive End