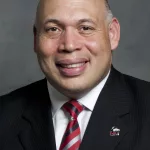 Northern Illinois University Vice President and Director of Athletics and Recreation Sean T. Frazier has been appointed 3rd Vice President of the National Association of Collegiate Directors of Athletics for 2023-24, the national office announced Monday.
Frazier, who is in his 11th year at NIU, will work with incoming NACDA President Pat Chun (Washington State), 1st Vice President Ross Bjork (Texas A&M), 2nd Vice President Heather Lyke (Pittsburgh) and Secretary Pennie Parker (Rollins College) to lead the organization, which is the professional and educational Association for more than 22,000 college athletics administrators at more than 2,200 institutions through the United States, Canada and Mexico.
Frazier previously served in a leadership role as a member of the NACDA Executive Committee from 2016-20 and was president of the Minority Opportunities Athletic Association (MOAA) from 2010-13.
"NACDA has been at the forefront of my career development for decades," Frazier said. "The many colleagues, mentors, mentees, and leaders that I routinely interact with have shaped my personal and professional life, I am truly humbled to continue to serve in this new capacity and look forward to supporting what I believe is the premier college athletics association in the country."
"For many years, Sean has been an exemplary role model for young administrators and aspiring athletics directors," said NACDA Chief Executive Officer Pat Manak. "He has worked tirelessly as an advocate for diversity and inclusion in college athletics while enhancing the student-athlete experience and strengthening the pipeline of minorities in the industry. The NACDA membership will benefit from Sean's veteran insight and leadership as he moves into the 3rd Vice President role."
Under Frazier's leadership over the last 10 years, eight different Huskie programs have won 14 Mid-American Conference Championships with men's golf the latest team to add to that list with their 2023 MAC title. NIU's championship pedigree has extended to the classroom. Last spring, for the first time in school history, every NIU sports program – all 16 – achieved a cumulative grade point average of 3.0 or above with the Huskies' achieving an overall cumulative GPA of 3.365, the highest in school history. NIU student-athletes have posted a cumulative GPA of 3.0 or above for 20 consecutive semesters.
Frazier, one of five finalists for Sports Business Journal's 2021-22 Athletic Director of the Year, has become a nationally recognized voice on issues ranging from the diversity, equity, inclusion and belonging to the impact of NCAA legislation and College Football Playoff decisions on non-autonomous Football Bowl Subdivision (FBS) institutions. In addition to his work with NACDA and MOAA, Frazier is involved with the LEAD1 Association, which represents athletic directors of FBS institutions, including serving as co-chair of the Diversity, Equity and Inclusion Working Group which in 2020 released a white paper with recommendations on how to create more diverse senior leadership among FBS schools.
In 2016 and again in 2022, NIU received the NCAA and MOAA Award for Diversity and Inclusion, which recognized and celebrated the initiatives, policies and practices of NIU in embracing diversity and inclusion. Under Frazier's tutelage, NIU became the only two-time recipient since the inception of the award. In 2014, he was honored with the Distinguished Service Award for his leadership of MOAA.
A former football student-athlete at the University of Alabama, Frazier has 25 years of overall experience as a director of athletics at the NCAA Division I, II and III levels, as an administrator at two Division I universities, as a coach and as a student-athlete. Prior to NIU, Frazier spent six years in senior leadership roles at the University of Wisconsin (UW) and was promoted to deputy director of athletics in 2011. Prior to Wisconsin, Frazier served as director of athletics at Merrimack College in North Andover, Mass., was the director of athletics and recreation at Clarkson University in Potsdam, N.Y. and led the athletics and recreation department at Manhattanville College in Purchase, N.Y.