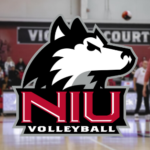 Chicago State hit .408 for the match as the Cougars claimed a 3-1 victory over the Northern Illinois University volleyball team on Sunday evening (Aug. 27), 25-23, 25-21, 19-25, 25-13, in the NIU Convocation Center. Charli Atiemo (Milford, Mich./Farmington Hills Mercy) hit .500 with 12 kills for the Huskies while Nazli Güvener (Ankara, Turkey/Elvankent Sinar) tallied 10 kills.
"Kudos to Chicago State, they have arms, they have talent, and they found a way to score," said NIU head coach Sondra Parys. "They pushed us and its hard, when you look at the record from the weekend, but we are trying to stay positive and know that it is going to help us long term."
The opening set of the match was tied seven times, including at 22, before Chicago State scored the next two points to earn a set point. Following a kill from Sarah Lezon (Indianapolis, Ind./Roncalli), the Cougars earned a sideout to take the opening set, 25-23.
Chicago State hit .410 in the opening set with 20 kills, including seven on 13 swings from Patrycja Lagida.
The Cougars took an 8-4 lead early in the second set and built the lead to as much as five, 17-12. A kill from Ella Mihacevich (Brunswick, Ohio/Padua Franciscan) and an ace from Nikolette Nedic (Willowbrook, Ill./Hinsdale Central) brought NIU back within three, 20-17, but the Cougars were able to hold on to take the second set, 25-21. Atiemo hit a perfect 1.000 on four swings in the set for the Huskies.
NIU made a fast start in set three as the Huskies led 8-4, hitting .556 in the early going. Chicago State responded and pulled even at nine before a 6-2 NIU run gave the Huskies a 15-11 lead. Consecutive kills from Nedic, Katie Erdmann (Forreston, Ill./Forreston) and Savanah Brandt (Pearl City, Ill./Pearl City) gave the Huskies an 18-12 advantage as they went on to take the set by a half-dozen, 25-19.
Chicago State closed the match as they hit .516 in the fourth set with 17 kills on 31 swings. A 15-6 run gave the Cougars a 19-10 edge in the set, and they didn't look back as Yanlis Feliz recorded eight kills while hitting .800 in the final frame.
Feliz finished the match with 25 kills, hitting .571, Lagida added 22 kills while hitting .400 for the Cougars. Crew Hoffmeier (Louisville, Ky./Assumption) recorded 15 digs for NIU.
The Huskies will return to action at Davidson's Wildcat Classic on Friday, Sept. 1, when they take on UNC Wilmington at 3 p.m. CT. NIU will then face host Davidson and Queens on Saturday, Sept. 2, to close the tournament.