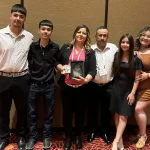 Two Kishwaukee College students were honored with statewide recognition by the Illinois Community College Trustees Association (ICCTA) at the ICCTA Annual Convention in Normal this month. Minerva Sandoval received the 2023 ICCTA Lifelong Learning Award, and Davut Hanveliyev was awarded the 2023 Gandhi/King Peace Scholarship.
Sandoval is currently pursuing a degree in Kish's Office Systems program, but her journey at Kish started in 2002 when she began taking English as a Second Language (ESL) classes. Sandoval moved to the United States at 20 years old and dedicated herself to learning English to better advocate for herself and her children. Over more than two decades, Sandoval improved her reading, writing and speaking skills through ESL and high school equivalency classes. With renewed confidence, she took the next steps to pursue a lifelong dream of taking college-level courses during the Fall 2022 semester. In December 2022, Sandoval attended Kish's commencement ceremony, where she earned the Google IT Support Professional Certificate.
"I always had inside me the dream of going to college," Sandoval said. "Through Kish, I saw many doors open for me. I cannot imagine my life without Kishwaukee College. Through all the support at Kish, I have been able to grow as a person."
Sandoval continues to improve her language skills through advanced ESL classes and is pursuing an Associate in Applied Science degree in Office Systems. She credits Kish for helping her advocate for her children's education, health care, extracurricular activities and more. Additionally, she plans to utilize Kish's citizenship class to gain the necessary skills to pass the U.S. Citizenship exam. Sandoval is Kishwaukee College's second student to win the ICCTA Lifelong Learning Award, with JoEllen Kile receiving the award in 2020.
For the Gandhi/King Peace Scholarship, Hanveliyev crafted an essay outlining a plan for a nonviolent response to the problems of hate and discrimination while drawing upon the lives and writings of Mahatma Gandhi and Dr. Martin Luther King, Jr. Hanveliyev's essay advocated for embracing diversity and touched on his perspective of cultures outside the United States.
"I hope that this essay will help raise consciousness about how mutual respect and a commitment to nonviolence could lead us to build a society whose diverse members can thrive and develop themselves both intellectually and socially," Hanveliyev said.
Hanveliyev will receive a $1,000 scholarship for the Fall 2023 semester from the ICCTA in addition to a $500 scholarship for Spring 2023 he received as the winner of Kish's competition. Hanveliyev is Kish's first Gandhi/King Peace Scholarship winner at the statewide level.
To learn more about lifelong learning opportunities at Kish, visit kish.edu/adultlearners. To learn more about the ICCTA scholarships or read Hanveliyev's essay, visit kish.edu/iccta.