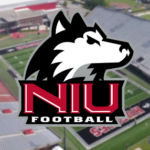 Northern Illinois University football dropped a matchup to in-state foe Southern Illinois University on Saturday by a score of 14-11.
SIU (2-0) jumped out to 14-0 early in the third quarter after taking a 7-0 lead into the break. The Huskies scored the final 11 points of the game but a late interception by SIU's Ubayd Steed allowed the Salukis to close out the win.
"I want to give credit to SIU; they beat us flat out," said NIU head coach Thomas Hammock. "I'm not going to make any excuses; we were prepared to play and just couldn't get anything going as a team. It wasn't from a lack of focus or attention to details; they just made more plays than we did and that's what it comes down to."
NIU (1-1) trailed 14-0 before redshirt sophomore kicker Jake Seibert (Cincinnati, Ohio/ La Salle) got the Huskies on the board with 5:35 remaining in the third quarter with a 27-yard field goal to finish a 13-play, 65-yard drive.
The final scoring of the game came with 14:35 left in the third quarter when quarterback Rocky Lombardi (Clive, Iowa/Valley HS) threw a 62-yard touchdown across the middle of the field to wide receiver Kasper Rutkiewicz (Mount Prospect, Ill./ John Hershey) who ran into the endzone untouched. That throw capped off a nine-play 99-yard drive.
"We just had a seam route, they tried to put a linebacker on him and he (Rutkiewicz) is a lot faster so I threw it up and let him make a play," Lombardi said.
NIU converted the ensuing two-point conversion with a reverse to wide receiver Trayvon Rudolph (Crete, Ill./ Crete Monee) who was able to find a wide-open Lombardi who caught the pass to add two more Huskie points and cut the score to 14-11.
NIU was unable to score on its final four possessions of the game, two of which ended in interceptions as the Salukis collected three on the game. The final interception came with just 33 seconds left and SIU kneed out the remainder of the game.
"Offensively we have to find a way to get better," Hammock said. "We have to be able to run the ball more effectively, we can't turn the ball over and then special teams. You miss two field goals and then lose by three points, that became critical in a game like this."
SIU was held to 219 yards by the Huskie defense on the day while NIU totaled 360.
Lombardi threw 23-for-38 for 297 yards and one touchdown and three interceptions. Rutkiewicz led NIU in receiving with 139 yards and scored the lone Huskie touchdown. Running back Antario Brown (Savannah, Ga./ Beach HS) led NIU rushing with 64 yards on 22 carries.
The first quarter opened with both teams trading punts. On NIU's second drive they started at the SIU 43 after Saluki's punted from their own endzone. NIU gained 13 yards to set up a 47-yard attempt for Seibert who couldn't get it through the uprights. On the ensuing possession SIU hit a 40-yard pass to set up an eight-yard rushing touchdown by quarterback Nic Baker with 1:58 remaining in the quarter.
In the second quarter the Huskies hit 19 and 20-yard passes to tight end Chris Carter (Detroit, Mich./Detroit Country Day) to set up another field goal attempt. Seibert missed wide right from 42 yards with 10:37 left in the first half. Neither team was able to score in the remainder of the first half.
SIU received the kick to open the second half and hit four plays of over 10 yards, the fourth of which was a rushing touchdown by running back Romeir Elliot.
NIU then got on the board with the Seibert kick from 27 yards on the next drive and the 14-3 score would remain through three quarters.
In the fourth quarter NIU quickly cut the deficit to just three with the huge 62-yard touchdown pass from Lombardi to Rutkiewicz.
After a quick stop by the Huskies, Lombardi was intercepted on the second play of the next drive. The Saluki's got backed up and punted again. This time NIU started with good gain to Carter before the offense stalled. NIU went for it on fourth down at the SIU 47 but was unable to convert.
SIU then drove to the Huskies 24 and missed a 41-yard field goal attempt from kicker Thomas Burks. However, the Huskies got backed up to a fourth and 26 and had to punt with 4:21 to go.
The Huskies defense had one more stop in them as they quickly forced a Saluki punt which traveled just seven yards setting up NIU at the SIU 47.
The Huskies got one first down up the SIU 33 before a hold set them back. On a second and 12 with 33 seconds left Lombardi's pass was tipped before being picked off by SIU's Steed.
NIU will next prepare to face Nebraska on Saturday, September 16 at 6 p.m. in Lincoln.
Postgame Notes
***Wide receivers Jalen Johnson and Davis Patterson and running back Gavin Williams each recorded their first career catches as Huskies.
***Rocky Lombardi's pass to Kacper Rutkiewicz was good for the Huskies' longest completion of the season and the first touchdown by a Huskie receiver this year.
***Kacper Rutkiewicz recorded the first 100-yard receiving game of his Huskie career, finishing with 139 yards on six catches.
***The 297 passing yards for quarterback Rocky Lombardi was the most for the super senior since 11/3/2021 vs. Kent State when he threw for a NIU record 532 yards.
***SIU's 14 points were the fewest given up by the Huskie defense since a 39-10 win over Eastern Michigan (10/15/22) and the Salukis' 71 rushing yards were the fewest by a Huskie opponent since that game.
***Converted tight end George Gumbs recorded his first career sack since moving to defensive end this season with 1.5 in the game.