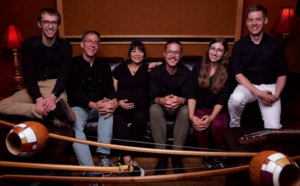 Arcomusical is thrilled to return to the DeKalb Public Library on Friday, December 9, for a fourth year to present their ever-growing collection of holiday arrangements for berimbau chamber ensemble!
In addition to well-known holiday music and some Arcomusical classics, as a special offering this year the group will be performing some sacred Afro-Cuban music to the program as well, with drumming as well as with musical bows.
As always, Arcomusical delights in spending time with audience members of all ages after the performance to give anyone who wishes a chance to play our unique instruments for themselves.
Come and be merry once again this year with DeKalb's own Arcomusical!
Playing exclusively on the Afro-Brazilian instrument called the berimbau, Projeto Arcomusical's performances provide a unique and family-friendly experience. After the performance, children of all ages are invited to hold and perform on the group's unique instruments. Projeto Arcomusical's music is fresh, playful, rhythmic, colorful, and soulful. The ensemble's level of concentration, communication, and joy of chamber music performance is palpable. Moreover, Arcomusical's music making is grounded in and guided by the berimbau's deep roots in Africa and Brazil.
This concert is free and open to all. Light refreshments will be available. No registration is required. Doors will open at 6:00 p.m. and music will begin at 6:30 p.m.
For additional information, please contact Samantha at samanthah@dkpl.org or at (815) 756-9568 ext. 1701.