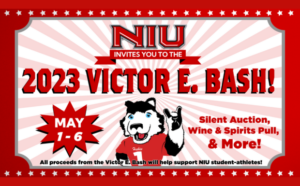 The Victor E. Bash, Northern Illinois University Athletics' spring fundraising event, moves to May in 2023, providing fans and alumni across the country with an opportunity to support NIU student-athletes and stay connected to the Huskies whether in person or virtually.
This year's Victor E. Bash is set for May 1-6, 2023 and will incorporate The Victors, NIU's Annual Student-Athlete Awards Show on May 4, and conclude with the May 6 Concert at the Convo featuring country artists Russell Dickerson, Lauren Alaina and Uncle Kracker. Tickets for the concert can be purchased here  and at NIUconvo.com.
During the Bash, Huskie fans, friends and alumni can bid on great auction items, including NIU sports specific gear packages and experiences, game worn jerseys and more. Fans will be able to view the items available several weeks before bidding opens on May 1.  The popular Wine and Spirits Pull also returns as a part of the Victor E. Bash and will be held on Wednesday, May 3. For just $40, purchase a number and you could win a bottle worth up to $175.
The NIU Athletics Official YouTube Channel will also offer programming during the week, including a unique virtual reunion of former Huskie football coaches, each of whom worked at NIU under Hall of Fame head coach Joe Novak and have since gone on to success in the college and professional coaching ranks. Current NIU head coach Thomas Hammock, along with Novak, will lead what is sure to be an entertaining conversation. Stay tuned for specifics and tune in to watch the premiere on Tuesday, May 2 and chat with fellow Huskie fans. The YouTube Channel will air several additional Victor E. Bash videos throughout the week.
There is no charge to watch any of the events on NIU Athletics' YouTube Channel, to browse the online auction or to attend The Victors in person on May 4 at the Holmes Student Center, which get underway at 7 p.m. While the Wine & Spirits Pull will go live at 7 p.m. on Wednesday, May 3, during the Victor E. Bash, the auction will be available to browse in advance, and all YouTube content can be viewed at any time following each video's premiere. Subscribe today and never miss a video.
NIU Football and Volleyball 2023 season tickets are on sale now at NIUHuskies.com/MyHuskies, by calling 815-753-PACK (7225) or in person during the Spring Showcase on Saturday, April 22 at Huskie Stadium. Through the new Build Your Membership plan, NIU fans can customize their game day experience by adding parking, hospitality passes and more to their season ticket orders on an a la carte basis. Premium seating opportunities at football and volleyball are available.  Find information on the opportunity to Build Your Membership or to directly support NIU Football or Volleyball through the Huskie Athletic Fund click here.
Football season ticket prices for NIU's six-game home schedule in 2023 are unchanged from a year ago, beginning from as little as $97 annually (less than $11/month with the nine-month payment plan) for general admission (East Side) tickets. Reserved seat pricing on the West Side is still set at $144 (sections A, B, F) and $162 (sections C, D, E) annually or $16/$18 per month with the nine-month payment option.  Purchase four season tickets with Huskie Family 4 Pack for even greater discounts.
To review all the ticket options, including a new West Side general admission section, go to NIUHuskies.com/tickets.