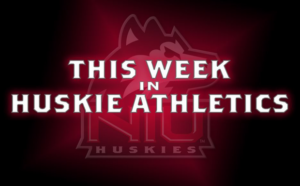 A busy weekend on campus sees both the Huskie Baseball and Softball teams host conference series at home while the NIU Track and Field team will also host a home meet on Saturday afternoon to highlight this week in Huskie Athletics.
Baseball
Wednesday, May 3: at Milwaukee, 6 p.m. – ESPN+ | Live Stats
Friday, May 5: vs. Toledo, 3 p.m. – Live Video | Live Stats
Saturday, May 6: vs. Toledo, 1 p.m. – Live Video | Live Stats
Sunday, May 7: vs. Toledo, 12 p.m. – Live Video | Live Stats
NIU Baseball wraps up a stretch of seven home games out of the last nine this week with its final home Mid-American Conference series against the Toledo Rockets May 5-7 at Ralph McKinzie Field at Walt and Janice Owens Park. Before that, the Huskies head up to Franklin, Wis. On Wednesday night to take on the Milwaukee Panthers at 6 p.m. That game will be broadcast on ESPN+. Junior Colin Summerhill had a big weekend at the plate last weekend against Akron. Summerhill was 5-for-12 at the plate in the three games with four extra-base hits including a pair of home runs. He drove in five of NIU's 20 runs scored against the Zips. Summerhill enters the week tied for ninth in the MAC with 41 runs batted in this season. On Sunday, May 7, the Huskies will honor the eight seniors on this year's team for Senior Day prior to first pitch.
Softball
Friday, May 5: vs. Bowling Green, 3 p.m. – Live Video | Live Stats
Saturday, May 6: vs. Bowling Green, 1 and 3 p.m. – Live Video Game 1 | Live Video Game 2 | Live Stats
NIU softball concludes the regular season this weekend at home as it plays host to Bowling Green at Mary M. Bell Field Friday and Saturday. After Friday's game, fans are encouraged to stick around and help the program honor its senior class! A special on-field ceremony will be held in recognition of the senior's vast dedication and accomplishments as NIU student-athletes.
Last weekend, the Huskies won two-of-three contests against Buffalo on the road. On Saturday, NIU beat the Bulls 3-2 in the series opener behind nine strikeouts from freshman pitcher Danielle Stewart, a career-high, but fell 4-2 in game two. On Sunday, NIU rebounded for a series-winning 6-2 triumph after Stewart rang up another nine Bulls. Additionally, senior Kelly Walinski's seventh-inning two RBI homer helped propel NIU to the four-run win.
Track and Field
Saturday, May 6: Huskie Classic, 10:15 a.m. – Live Stats link available later this week
The Huskie track and field team hosts its first home meet since 2019 as NIU hosts the Huskie Classic on Saturday at the NIU Soccer and Track & Field Complex. Competition begins with the hammer throw at 10:15 a.m. with events on track slated for 1 p.m. NIU will honor its seniors in a ceremony beginning at 12:15 p.m.
This past weekend, Diamond Riley won the triple jump at the Drake Relays, tying a personal best mark at 12.75 meters, the second-best mark in the MAC this season. With just one weekend left before the conference outdoor championship, Skylynn Blue is ranked second in the MAC in the 200 meters (23.93) and Kadeja Campbell is second in the 400 meters (54.84).