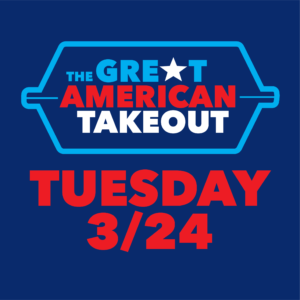 The coronavirus poses a significant threat to the future of an industry that employs more than 15 million Americans. That's why a coalition of restaurants is asking everyone in America to show their support for the restaurant industry and incredible employees by joining #TheGreatAmericanTakeout and eating at least one delivery or pick-up meal.
On Tuesday March 24th, rally the troops! Reach out to your community: friends, family, neighbors, and coworkers and encourage them to order takeout or delivery from your favorite restaurant… and be sure to tip restaurant workers! Don't forget to post a snap or video of your meal, tagged with #thegreatamericantakeout.
Then REPEAT! The Great American Takeout is only the beginning. Keep supporting our nation's restaurants by ordering takeout or delivery as often as you can.