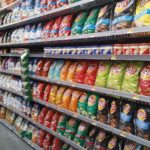 There are plenty of reasons to keep your favorite snacks stocked up in your pantries at all times. The biggest reason being that you get to save yourself a trip to the store when that craving comes on.
But in 2023 not all snack a treated the same and it has to do with demand for certain snacks going through the roof coupled with supply chain issues and shortages, which has caused some companies to slow production of some of your favorite treats.
Here are just a few snacks that may have become absent from your local grocery story according to Eat This, Not That!:
Hostess Fruit Pies
Flamin' Hot Crunchy Cheetos
Chester's Hot Fries
3D Doritos
Mother's Original Circus Animal
To read more and to see if your favorite snack is in short production head over to eatthis.com.