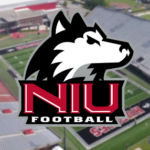 As the full Northern Illinois University football team practiced together for the first time on Friday morning (Aug. 4) at Huskie Stadium, one unit where it was evident that the veterans were leading the way in teaching their younger counterparts was on the defensive line. It is a group that brings back significant experience and will be expected to set the tone for the Huskie defense in 2023.
"Anytime you have a good defensive line, I think you have a chance to be a good team because those are the guys that push the offensive line, they push the pace of practice, they push the physicality, they get everybody on edge and ready to go," said NIU head coach Thomas Hammock. "We have a lot of depth, we have a lot of guys with experience, we have some young guys that are developing, that are going to push for some playing time. I'm excited about those guys and about doing everything possible to keep all those guys healthy so they can be ready to go."
Huskie defensive line coach Jordan Gigli echoed those sentiments from Hammock and noted that, with the players setting the tone and culture, he could focus more on simply coaching.
"A big part of being an assistant coach and for me coaching the D-line, you're trying to turn freshmen into sophomores, sophomores into juniors, juniors into seniors," Gigli explained. "We have done a good job with the culture of the team, with bringing these guys back, they want to be here, they've played a lot of football. So, in essence I take a step back because they know the standards, they're running the show, they're holding each other accountable. I'm just trying to coach them the best I can."
In that group Gigli is guiding are three players who have made over 20 career starts, led by James Ester (Detroit, Mich./Cass Tech) with 29. Raishein Thomas (Racine, Wis./Washington Park) had made 28 career starts and Devonte O'Malley (Midlothian, Ill./Bremen) has 21 appearances in the NIU starting lineup.
Ester returns after being named NIU's Team MVP a season ago, while earning Second Team All-MAC honors from Pro Football Focus and Phil Steele along with Third Team All-MAC recognition from the conference coaches. The senior defensive tackle started all 12 games at tackle in 2022, making 28 total tackles, including six tackles for loss with two sacks and two forced fumbles. Already a two-year team captain, Ester leads all Huskie returnees with 13.5 career tackles for loss.
Thomas was named NIU's defensive MVP following practices this past spring and begins the 2023 season with 110 career tackles, including 12.5 tackles for loss. Last season, the senior from Racine, Wis., made 11 starts at defensive end and was named the team's Defensive Lineman of the Year.
O'Malley, who was named to the Bronko Nagurski Trophy Watch List on Monday (Aug. 1), earned First Team All-MAC recognition from Phil Stelle and Second Team All-MAC honors from the conference coaches in 2022. A junior from Midlothian, Ill., O'Malley was named NIU's Defensive Player of the Year in 2022 after making 36 tackles, including 16 solos, while starting all 12 games. O'Malley was also nominated for the Burlsworth Trophy, which is presented to the nation's top former or current walk-on.
Along with that trio of 20-plus game starters is an additional group of five players: Ivan Davis (Canton, Mich./Plymouth), Pierce Oppong (Bloomington, Minn./Jefferson), Cade Haberman (Blair, Neb./Westside), Demond Taylor Jr. (East St. Louis, Ill./East St. Louis) and Jacob Waskow (Canton, Ill./Canton) who has each played in over 20 games, along with Roy Williams (Crestwood, Ill./Alan B. Shepard) who saw action in six contests as a true freshman in 2022.
Davis and Taylor each recorded a pair of sacks a season ago, and all that returning experience allows Gigli to move a little quicker with his group in camp.
"You're always going to restart with the basics, but the older guys right now are teaching the younger guys," said Gigli. "We can go a little bit faster with the older guys, because they've got a great grasp of this, it is the fourth time we've installed this defense just this past year. So, they've got a great grasp and I think they showed in pads today that they're running with it."
Friday morning's practice marked the first of camp with shoulder pads as the Huskies continue to make progress toward the Sept. 2 opener at Boston College. It was also the first time the entire team practiced together this fall, after the opening two days of camp were split into two groups, based upon experience levels.
"I thought the energy, the effort was there, the physicality was there," said Hammock of Friday's practice. "The execution was there for the most part and I thought guys had the right approach. Now we have to come back tomorrow on stack another day, it was a hot one today. The first day in pads is also exciting, but what good football teams do it they continuously stack days to improve. So, we have to come back, watch the film, make the corrections, go to walkthrough and come back tomorrow and be ready to roll."
Season, single game and mini-plan tickets for the 2023 Huskie home games are all on sale now 24 hours a day, seven days a week online at NIUHuskies.com/myhuskies or by calling the NIU Athletics Ticket Office at 815-753-PACK (7225). Season tickets provide the best overall value at as little as $17 per game for general admission seating on the West Side of Huskie Stadium ($102 total). Sit in the same reserved seat for all six games for just $144 (sections A, B, F) or $162 (sections C, D, E). With the addition of the new Homecoming + One option, there are three "Pick Your Pack" mini-plans available, including Saturday Only and MACtion+Saturday four-game plans. See all the ticket prices and options, including premium experiences, here.