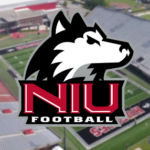 The return of Mid-American Conference Champion Rocky Lombardi, the experience gained a year ago by back-ups Ethan Hampton and Nevan Cremascoli, and the arrival of transfer C.J. Jordan from Idaho give the Northern Illinois University football team one of its most experienced groups of quarterbacks as they look to lead the Huskie offense in 2023. Four of NIU's six quarterbacks bring experience as a starting quarterback and three – Lombardi, Hampton and Cremascoli – have started multiple games at NIU.
The Huskie signal-callers are led by redshirt senior Lombardi who is back for a chance to claim his second MAC Championship after missing all but four games last season due to injury. The Clive, Iowa native came to NIU after four seasons at Michigan State in 2021 and immediately led the Huskies to a Mid-American Conference Championship. He threw 15 touchdown passes in 2021 while rushing for nine more and recording over 3,000 all-purpose yards as the Huskies won nine games.
Redshirt sophomore Ethan Hampton threw seven touchdowns for the 2022 Huskies in four games before suffering a season-ending injury versus Toledo, while redshirt sophomore C.J. Jordan, a transfer from Idaho, appeared in six games for the Vandals in 2022.
The QB room also features three freshmen, redshirt Nevan Cremascoli, who played in four games for NIU in 2022 and threw five touchdowns in four games, and true freshmen Josh Holst and Mason Kidd.
Quarterbacks were on display during Tuesday's practice at Huskie Stadium as there were 11-on-11 situations that tested the offense against the Huskie defense.
Head Coach Thomas Hammock believes the quarterbacks can lead the Huskies to success in 2023.
"We have a lot more depth at the quarterback position this year, with Rocky coming back healthy and Ethan and Nevan with more experience," Hammock said. "We've added C.J. Jordan to the room as well and I like the way those guys have led the offense. I expect them to have a good year as a position unit."
"Right now, it's been a good camp, obviously we've got more experience than we've ever had with Rocky coming back having started for a couple of years," said offensive coordinator and quarterbacks coach Eric Eidsness. "Ethan played last year and had the injury too, Nevan got to play last year, so it's a little bit different than a year ago because systematically, more guys know where to be and how to line up."
After the offense struggled to move the ball on the defense in the early parts of Tuesday's practice, they were able to find the endzone multiple times in the closing segments.
"We do have a good defense, so I think there's going to be some back and forth and I think it's about everybody being on the same page," Eidsness said.  "Whether it's offensive line, wide receivers and running backs, one guy makes a mistake on offense, and it isn't going to be very successful. Chemistry, continuity, and the ability to bounce back well into the next segment is super important."
Lombardi said his goal is to lead the Huskies to a second MAC title in his seventh season as a college quarterback.
"The expectation first and foremost is to win a championship here. That was my goal last year coming in [to the season] was to go two for two. I didn't get the chance to do that, so my ultimate goal is to win a championship this year," Lombardi said.
In addition to the offensive and defensive work on Tuesday, special teams stood out, as kicker Jake Seibert was able to drill multiple kicks from over 40 yards.
"I liked the intensity; I like the way they came out today," Hammock said. "Defensively I think they're playing as a unit and playing together and making it extremely hard [on the offense]. We were able to get some situational stuff in at the end of practice, but I was very pleased especially because today was the hottest day we've had."
Wednesday's practice will wrap up preseason camp before NIU turns its full attention to its week one opponent, Boston College, on Friday.  The season opens Saturday, September 2 at 11 am (CT) on the ACC Network.
Follow all the action from NIU Football preseason practices, including position previews, videos and more, go to 2023 Preseason Football Camp Central on NIUHuskies.com.
Season, single game and mini-plan tickets for the 2023 Huskie home games are all on sale now 24 hours a day, seven days a week online at NIUHuskies.com/myhuskies or by calling the NIU Athletics Ticket Office at 815-753-PACK (7225). Season tickets provide the best overall value at as little as $17 per game for general admission seating on the West Side of Huskie Stadium ($102 total). Sit in the same reserved seat for all six games for just $144 (sections A, B, F) or $162 (sections C, D, E). With the addition of the new Homecoming + One option, there are three "Pick Your Pack" mini-plans available, including Saturday Only and MACtion+Saturday four-game plans. See all the ticket prices and options, including premium experiences, here.