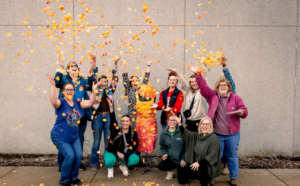 The Kishwaukee College Horticulture department hosted guest designer Laura Daluga AIFD as part of the Artist In Residence (AIR) program offered through the American Institute of Floral Designers (AIFD).
Daluga presented a floral fashion demonstration in Associate Professor of Horticulture Janet Gallagher's Floral Design class. The presentation gave students hands-on experience in deconstructing roses and arranging the different colored pedals on a dress, hat and belt to create a floral ensemble.
"Floral fashion is not something we have done in class before. We have never done anything with clothing, so it is interesting to have a new challenge," said Horticulture student Livi Morey. "And it has been nice to have Laura here to talk about her experiences and the different ways you can get started in horticulture."
The AIR program is offered through the AIFD to bring together industry professionals and floral design students at colleges and universities with student AIFD chapters like Kish. The horticulture program has grown a strong reputation in the industry by providing students with real-world opportunities like the AIR program.
"I fell in love with horticulture, and it's what I work in now. I chose to study at Kish because my boss and so many other people I know recommended it," said Horticulture student Eden Lindenmeyer.
Daluga is a fourth-generation florist specializing in floral fashion. She works as an event installation specialist at fleurdetroit and as Design Director for the Smithers-Oasis Company. Daluga is the creator of Detroit's annual floral sculpture show — Art in the Elements — and acts as a board member for the Detroit Institute of Arts Museum's Friends of Art and Flowers. Her work has ranked in the Bobbi Cup in 2014 and 2016, FTD America's Cup in 2018 and 2022, was the People's Choice winner of the Iron Designers America for the International Floral Expo in 2016, and has been published in "International Floral Art."
For more information on the Floral Design Program at Kishwaukee College, visit kish.edu/horticulture.