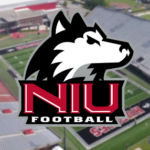 One week before the Northern Illinois University football team season opening game at Boston College, NIU head coach Thomas Hammock put the Huskies through a 1:40 minute workout in full pads in Huskie Stadium with preparations for the opener well underway.
With the book on the 2023 preseason officially closed, Hammock likes the balance he has seen in his team over the course of the last 20 practices.
"I like the balance of our team," Hammock said. "I think we have the ability to play complementary football and that's important over the course of a long season. We are equally balanced on offense, defense and special teams and we haven't always been that way. I love the competition at different positions. Guys are still competing for snaps."
Saturday's workmanlike practice in moderate temps featured both 11-on-11 work, the offense and defense working against the respective compete teams and special teams work.
While Hammock loved the balance, the progress and improvement he saw across the board, one of the biggest positives the took from preseason was the maturity of the team that features 17 returning starters and features 35 players in at least their fourth seasons of college football.
"They've attacked every day," Hammock said. "They've gotten better and they haven't let the monotony of fall camp get to them. I told them today the sign of a mature team is how they come back after some time off and I think they exceeded my expectations in terms of coming back and putting the work in to get better. We are a more mature team, we're older and overall it's been a very good camp."
NIU will practice Sunday before the Huskies hold the annual student-athlete photo and attend the President's Picnic on campus.
Get ready for the 2023 Huskie Football season by catching up on all the position previews, videos interviews with Huskie players, and more, go to 2023 Preseason Football Camp Central on NIUHuskies.com.
Season, single game and mini-plan tickets for the 2023 Huskie home games are all on sale now 24 hours a day, seven days a week online at NIUHuskies.com/myhuskies or by calling the NIU Athletics Ticket Office at 815-753-PACK (7225). Season tickets provide the best overall value at as little as $17 per game for general admission seating on the West Side of Huskie Stadium ($102 total). Sit in the same reserved seat for all six games for just $144 (sections A, B, F) or $162 (sections C, D, E). With the addition of the new Homecoming + One option, there are three "Pick Your Pack" mini-plans available, including Saturday Only and MACtion+Saturday four-game plans. See all the ticket prices and options, including premium experiences, here.