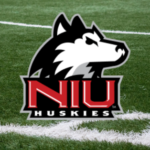 The Northern Illinois University women's soccer team had ten shot attempts with one on goal on Sunday afternoon as the Oakland Golden Grizzlies were held to just one attempt. In a 0-0 draw.
"I was really proud of the girl's efforts, thought we were the better team in the first and second half," head coach Michael O'Neill said. We executed the game plan with our setup and formation. We did pretty much everything but finish, so leaving with a little frustration but lots to be proud of."
NIU started out on the front foot offensively as the Huskies had four shot attempts on net in the first 15 minutes with Tyra King (Naperville, Ill./Metea Valley) having the lone shot on net in the match in the 15th minute.
Throughout the remainder of the match the Huskies had shot attempts inside the box, however they could not get them on frame. In the 44th minute senior forward Kierah Meier (Sycamore, Ill./ Sycamore) put a shot off the top of the crossbar. In the second half both senior midfielder Abby Zipse (Batavia, Ill./Batavia) and junior forward Edith Delgado (Aurora, Ill./ East Aurora) and hit the frame of the goal.
"That is unbelievable from us defensively to limit them to zero shots on target and just one attempt overall," O'Neill said. If you don't put the ball in the net at the other end, you're going to come away empty handed. There are definitely things to work on but I'm proud of the defensive display and the commitment to play an attacking style of soccer.
The Huskies redshirt senior goalkeeper Sadie McGill (Fort Worth, TX./ L.D. Bell) picked up her third clean sheet in the first four matches of the year. Julia Zangerl started in net and got the lone save of the match for Oakland in the 0-0 draw.
NIU will prepare to travel to Bloomington, Ind., It will take on the Hoosiers at 6 p.m. on Sunday. Sept. 3