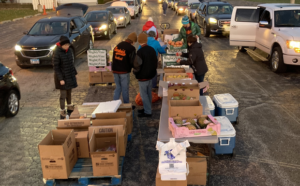 Current rising food and fuel prices have worsened the struggles brought on by the last few years for our neighbors facing  food insecurity. Again, this year DeKalb County Community Gardens (DCCG) will be sharing free food to neighbors in  DeKalb County with special food distributions on Giving Tuesday (November 29, 2022).  
DCCG will host three special food distribution sites sharing fresh foods and non-perishable food items:
4 to 6 pm – St. Paul the Apostle Parish, 340 W. Arnold Street, Sandwich 

4:30 to 6:30 pm – Genoa Area Community Food Hub, 415 W. Main Street, Genoa 

6 to 7 pm – DCCG Warehouse, 2280 Bethany Road, DeKalb 
All food distributions are free and open to all who come while supplies last. Food will be distributed drive-thru style with  neighbor choice. Volunteers will be on hand, at various stations, to share food options, pick each car's selections and  load them into cars. 
This year DCCG is joining with several local producers to purchase and share more costly grocery items such as 2% milk  (HyVee-Sycamore), apples (Jonamac Orchard, Malta), ground beef (Family Farm Meats, Hinckley), and fresh seasonal  produce (Klein's Farm & Garden Market, Burlington). "HyVee is a proud member of our great community, and as a  member of this community we have a responsibility to give back when and where we can. We are happy to be a part of  Giving Tuesday with DeKalb County Community Gardens," shared Jeremy Gipe, Store Director at HyVee-Sycamore. 
DCCG works to bring attention to food insecurity in DeKalb County and is looking to supporters and community partners  to help us meet our fundraising goals. These funds allow the organization to increase and expand healthy food choices  that can lead to healthier lifestyles for neighbors who face food insecurity.  
To donate to DeKalb County Community Gardens on Giving Tuesday, November 29, text GIVEDCCG to 44321 or click  the Donate button at www.dekalbgardens.org. 
Giving Tuesday is the Tuesday after Thanksgiving in the United States and follows Black Friday's holiday shopping kick off. GivingTuesday.org describes the day as "a global generosity movement unleashing the power of people and  organizations to transform their communities and the world." 
DeKalb County Community Gardens is a not-for-profit that strives to end food insecurity, provide community health and  nutrition education, and build community across DeKalb County. DCCG's programs include the Grow Mobile (a mobile  food pantry), Genoa Area Community Food Hub (Genoa), and the Walnut Grove Vocational Farm (Kirkland). 
For more information about DCCG's Giving Tuesday events or DCCG programs, contact Jackie DiNatale, Associate  Director (815.981.1744 or jdinatale@dekalbgardens.org).