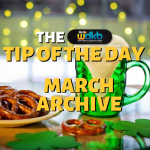 Tuesday March 31st
Unsalted sunflower seeds are a great snack to help lower your cholesterol.
Monday March 30th
Zoom has a "Touch Up My Appearance" setting! It can be found in the program's video settings and works like a very subtle photo filter.
Friday March 27th
Tons of classic games can be played online. Games like Monopoly, Yahtzee, Uno, and even Cards Against Humanity are available for free and can be played virtually with your friends!
Thursday March 26th
Clean your windshield wipers with alcohol wipes if you keep getting annoying streaks and squeaks!
Wednesday March 25th
Gardening Tip: Mix vinegar and Dawn dish soap together for a very effective but nontoxic weed killer.
Tuesday March 24th
Hole punch your collection of takeout menus and store them in a small binder in the kitchen. This will make ordering so much easier now that you don't have to search through random drawers!
Monday March 23rd
Netflix Party is a free Google Chrome extension that lets you and your friends simultaneously stream shows and chat about it on your desktop. Here are instructions to download and install the extension.
Friday March 20th
Use a fan to inflate your children's bed fort. Just use lightweight bed sheets.
Thursday March 19th
Want to add some fluffiness to your rice? Add one teaspoon of lemon juice to each quart of water you use to cook it.
Wednesday March 18th
Open a bag of chips from the bottom. Due to the bag sitting upright during shipping and shelf life, most of the flavor sinks to the bottom.
Tuesday March 17th
Working from home with your kids around? Try introducing the "stoplight system." Put a red, yellow, or green circle on the office door. Green means to come right in, yellow means to ask first, and red means do not disturb. It makes productivity a kind of game for the kids in a very visual and easy-to-understand way.
Monday March 16th
Create barriers to make touching your face less convenient. Wear glasses so you'll rub your eyes less or paint your nails so you are less likely to bite them!
Friday March 13th
When using the iPhone calculator app, swipe left or right to delete a single digit. No need to hit the CLEAR button.
Thursday March 12th
Never put anything in the back-seat pocket of an airplane seat! The trash is taken out, but it is rarely ever deep-cleaned.
Wednesday March 11th
Take a quick photo of your child before heading into crowded places. God forbid you ever lose track of them, at least you'll have a recent photo of them in the exact clothing they were wearing to help track them down.
Tuesday March 10th
If someone wants to see a photo on your phone, launch the camera app from your lock screen before handing it to them. That way they won't be able to access any other apps, texts, etc.
Monday March 9th
Go to the zoo when it's a little colder than normal. The animals will be more active trying to stay warm.
Friday March 6th
Take note of your bodies sleeping position in the morning. This is probably your most comfortable sleeping position. Knowing this can help you get to sleep quicker!
Thursday March 5th
You can instantly wake up any body part that falls asleep by shaking your head back and forth.
Wednesday March 4th
Have a problem with dandruff? Showering with cooler water has been proven to help reduce the symptoms
Tuesday March 3rd
Want Google to only return your search with the most current information? Type "after:2019" at the end of your search.
Monday March 2nd
Sing through the alphabet while washing your hands to make sure you are scrubbing for at least 20 seconds!