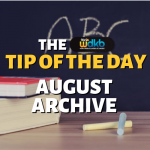 Monday August 31st
If your clothes smell bad because you let your wet laundry sit in the wash for too long… dry them before you rewash them! The dryer helps to stop the bacteria growth.
Friday August 28th
Leave the remains of a candle in your car to make the interior smell like your favorite scent!
Thursday August 27th
Keep wasps from building nests on your property by blowing up a brown paper bag and hanging it near your house. Wasps are territorial and tend to not start a hive that's too close to another one!
Wednesday August 26th
When frying fish in a pan, add a dollop of peanut butter. It won't affect the taste of the fish, but will will absorb the stinky fish odor!
Tuesday August 25th
Scissors won't cut through stubborn plastic packaging? Try a can opener!
Monday August 24th
When taking notes, leave a few pages in the front for a Table of Contents. This will make it easier to study from once the notebook is full.
Friday August 21st
To get stains out of your carpet, put a wet towel over the stain and iron it.
Thursday August 20th
If you're adding a topping a cheese, never leave it in the oven longer than 5 minutes. No matter the oven temp, it only takes 5 minutes for cheese to start to burn and turn into a hard crust.
Wednesday August 19th
Get old bumper stickers off your car without leaving any residue by using a hair dryer.
Tuesday August 18th
Google's logo is the perfect color scheme to test all the colors in your ink cartridge, and because it has a white background, it uses almost no ink.
Monday August 17th
Once you open a tub of ice cream, put it back in your freezer UPSIDE DOWN. This will help prevent freezer burn.
Friday August 14th
Cut your frozen pizza BEFORE you put it in the oven. It won't make a red saucy mess, and you will also get better heat distribution.
Thursday August 13th
Use a smart speaker to structure your kid's at-home school day. Use the Family Bell feature with Google Assistant or set up repeating reminders with Alexa.
Wednesday August 12th
Remove coffee and tea stains from mugs with white vinegar.
Tuesday August 11th
Hold the CTRL (OPTION on Mac) button + Backspace to delete full words.
Monday August 10th
Chew more to help pace how fast you're eating. If you eat too fast, your brain won't recognize that you're full until after you've already consumed too many calories.
Friday August 7th
When you first start walking your new dog, don't head back home right after they do their "business." Walk a bit further so they don't associate this as the end of the walk, causing them to hold off as long as possible.
Thursday August 6th
Water your plants while you're away by using a pot and string. Fill the pot with water, place it at a height above your plant, then run string from the pot into the soil. With gravity's help, the string will provide a steady flow of water for days!
Wednesday August 5th
If your cookies are starting to get a little stale, place them in a plastic bag with a piece of bread. Leave it overnight and they'll taste good as new.
Tuesday August 4th
Try to restart your phone once a week. This clears RAM (random access memory) which helps to keep your phone running smoothly, prevents crashes, and prolongs the battery life.
Monday August 3rd
Use prescription pill bottles to store all the tiny things! They can fit: bobby pins, cotton swabs, birthday candles, matches, sewing needles, safety pins, buttons, and more.