Tune into Monica in the Morning weekdays at 6:40 AM & 9:40 AM to hear the Tip of the Day brought to you by Heritage Woods of DeKalb – an affordable assisted lifestyle community for the older adult.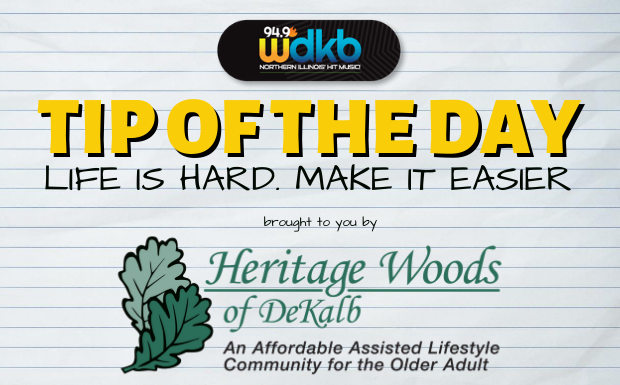 If you have a life hack, tell us about it and your advice could be featured as our next Tip of the Day!
---
Tip of the Day Archive
Monday January 18
Feeling sad? Eat some oatmeal, cereal, salmon, milk, dark chocolate or bananas. These are proven to be mood boosting foods!
Friday January 15
If your clothes don't smell as fresh as they used to, it might be time to rinse your washing machine. Add some detergent and run a full wash without any clothing.
Thursday January 14
If your rings leave a green stain on your fingers, paint the inside of the ring with clear nail polish.
Wednesday January 13
Use the shortcut 'Ctrl + Shift + T' to reopen a browser tab you accidentally closed.
Tuesday January 12
Buying a used car? When you first start it up, make sure that the check engine light goes on for a second. A lot of people rip out the bulb so you don't know that the car needs repairs.
Monday January 11
Pre-heat your oven faster by turning on high broil before switching over to bake. Thanks to Melody for today's tip! She says "I use this when I want to cook a frozen pizza, but don't want to wait 15 minutes for the oven to heat up. It heats up to 425 in under 5 minutes."
Friday January 8
Trying to lose some weight? Try this. Have some green tea in the early evening. It will increase your metabolism and help you burn calories while sleeping. Just don't drink green tea too close to bedtime because it contains some caffeine and may make it difficult to fall asleep.
Thursday January 7
Dealing with a stubborn sticker? Instead of picking and scraping away at it, grab some oil! Olive oil will remove sticker glue from most surfaces. Soak a rag in oil, let sit on the surface for 5-10 minutes, and wipe off. It also helps to heat it up with a hair dyer.
Wednesday January 6
Salt stains on your shoes? Wipe them with a cloth dipped in a solution of 1 tablespoon vinegar to 1 cup water.
Tuesday January 5
When baking with yeast, mark the outside of the bowl with a dry erase marker to make it easier to tell how much your dough has risen.
Monday January 4
If your car gets stuck in the snow, take out your floor mats and place them under the tires to help get traction.
Friday January 1
Here's a simple hangover remedy: Eat some honey. Honey provides your body with the sodium, potassium, and fructose it needs to break down the alcohol and recover.
---
There's plenty more where that came from! Check out the full Tip of the Day Archive below!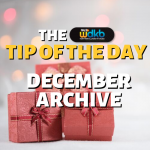 Thursday December 31 When opening a bottle of champagne, keep the wire cage on! The cage helps you control the cork so it doesn't...
Read More