Tune into Monica in the Morning weekdays at 6:40 AM to hear the Tip of the Day brought to you by Heritage Woods of DeKalb – an affordable assisted lifestyle community for the older adult.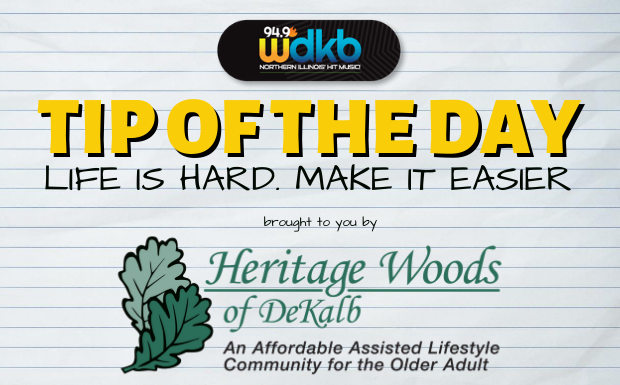 If you have a life hack, tell us about it and your advice could be featured as our next Tip of the Day!
Tip of the Day Archive
Friday October 23rd
Break off the clips on pant hangers to make cheap chip clips.
Thursday October 22nd
Put some old newspaper at the bottom of your trash bin to absorb food juices.
Wednesday October 21st
Keep your bobby pins organized by installing a magnetic strip onto the inside of a drawer or cabinet
Tuesday October 20th
When you have a stuffy nose, create a mixture of boiling water and Vicks vapor rub. Pour into an ice cube tray and freeze over night. The next morning, place one cube at the bottom of your shower and the Vicks infused steam will provide relief to your sinuses.
Monday October 19th
Charge your phone up to 3x faster by putting it on airplane mode.
Friday October 16th
If your pumpkin is wilting, give it an ice bath overnight. Once you take it out, dry it thoroughly to prevent mold growth.
Thursday October 15th
To prevent wilting, avoid leaving your pumpkin outside during freezing temperatures.
Wednesday October 14th
Apply Vaseline or vegetable oil on the carved edges of your pumpkin. This will keep them moisturized and prevent the edges from drying out too fast.
Tuesday October 13th
To help prevent mold, clean your pumpkins with a vinegar/water bath before and after you carve it.
Monday October 12th
Don't cut the top off your pumpkin and dig the guts out. Cut a hole in the BOTTOM of the pumpkin and most of the guts can easily be pulled out with it.
Friday October 9th
Try attaching PVC pipe to your leaf blower to help clean leaves out of your gutter.
Thursday October 8th
A few stick-on hooks on the inside of your kitchen cabinet doors make for a great way to organize your pot lids.
Wednesday October 7th
Use regular toothpaste to scrub permanent marker stains off the walls. Let the paste sit for 10 minutes, then wipe off with a damp cloth.
Tuesday October 6th
Tie a rubber band around the inside of your shorts pocket to keep your valuables from falling out while you go for a run.
Monday October 5th
Instead of stashing all your grocery bags loose in a cabinet, try repurposing an old tissue box. Much neater, and more convenient!
Friday October 2nd
If there's a jar or container you can't open, run the lid under hot water for 30 seconds. The hot water helps the metal expand, therefore loosening the lid and making it easier to unscrew.
Thursday October 1st
Make the perfect PB&J by putting a layer of peanut butter on both the top and the bottom slices of bread first. The peanut butter acts as a barrier and prevents the jam from making your sandwich soggy.
---
There's plenty more where that came from! Check out the full Tip of the Day Archive below!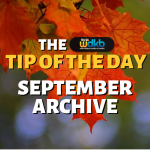 Wednesday September 30th Clean dirty screen doors or window screens with a lint roller! Tuesday September 29th Got squirrels invading your birdfeeder? Use a...
Read More