Tune into Monica in the Morning weekdays at 6:40 AM to hear the Tip of the Day!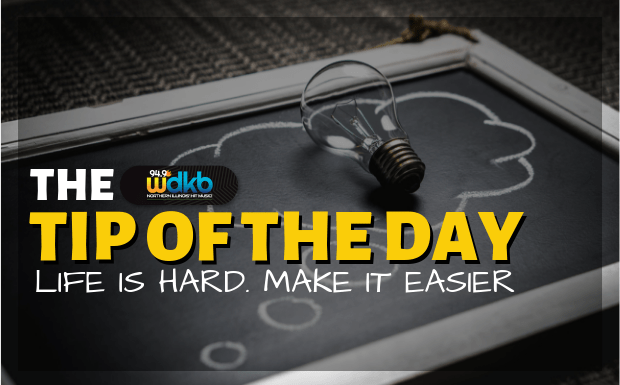 If you have a life hack, tell us about it and your advice could be featured as our next Tip of the Day!
Tip of the Day Archive
Friday December 13th
Save the water in which you boil potatoes or pasta, let it cool, and use it to water your house plants. They love the starchy water.
Thursday December 12th
A new decade long study has found that people who brush their teeth at least THREE times a day had a lower risk of heart failure.
Wednesday December 11th
Got a cough? Have some pineapple juice! It's loaded with anti-inflammatory properties which help soothe the throat and dissolve mucus and is just as effective, if not more effective, than cough syrup!
Tuesday December 10th
Help extend the life you real Christmas tree by mixing a little bit of sugar into the water. Make sure the sugar is completely dissolved before watering the tree.
Monday December 9th
When making online purchases, use your credit card rather than a debit card. If a debit card is compromised, the thief could directly compromise your bank account. The credit card acts as an extra line of defense as most credit card companies will reimburse fraudulent charges if they are promptly reported.
Thursday December 5th
Instead of using gift tags to label gifts, use a color coding system! Don't reveal the code until Christmas to keep everyone guessing whose gifts are whose.
Wednesday December 4th
When online shopping, if you have a choice between a free shipping discount or an item discount of roughly the same amount, use free shipping so you'll get all your money back if you have to return
Tuesday December 3rd
When creating accounts on retail websites say that your birthday is in December. That way you'll get promotional birthday vouchers and you can use them to save money on Christmas gifts.
Monday December 2nd
While shopping on Cyber Monday, do your research! Make sure you're shopping a legitimate site. Read product reviews or check the BBB website.
Watch out for fake coupons. Scammers use pop ups and email ads to steal money and identity information.
---
There's plenty more where that came from! Check out the full Tip of the Day Archive below!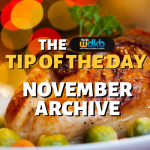 Wednesday November 27th On Thanksgiving, remember not to leave food out at room temperature for more than 3 to 4 hours. Make sure that...
Read More