Monday -- 03:00 PM - 06:59 PM
Tuesday -- 03:00 PM - 06:59 PM
Wednesday -- 03:00 PM - 06:59 PM
Thursday -- 03:00 PM - 06:59 PM
Friday -- 03:00 PM - 04:59 PM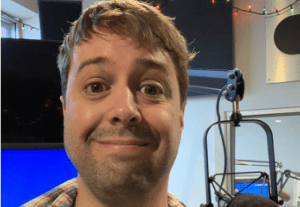 Born and raised in DeKalb till I was 12 years old, then moved away to central Illinois but now I'm back even more awesome than before!
I've worked in radio for quite some time now and it's taken me to some pretty interesting places. There was a point where I was doing a radio show in Breckenridge, Colorado. I got really good at skiing and I can make it all the way down the mountain without falling down….most times anyway.
I'm a bit of a nerd too as I love things like Star Wars and Marvel Movies, The Simpsons which I quote from daily and I'm also a big fan of the WWE. I know it's fake but I don't care, I still enjoy it. Oh and I LOVE the Chicago Bears. It makes me so happy that they're finally good again. Bear Down!!
I'm super excited to be back home in DeKalb and working for a great station like WDKB. You can catch me everyday weekday from 3-7pm.  Let's be friends!