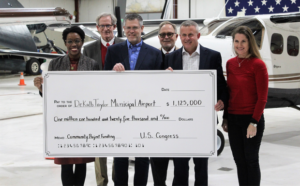 Representative Lauren Underwood (IL-14) visited DeKalb Taylor  Municipal Airport to celebrate $1,125,000 in federal funding, which Underwood secured  for the airport. This funding will be used to replace the airport's perimeter fencing, the first  phase of a security upgrade that is critical to maintaining the airport as a regional  economic development engine. 
"I am proud to deliver over $20 million to fund 15 projects across our community, including  over $1 million for DeKalb Airport," said Underwood. "Ensuring that we are making proper  federal investments in our local infrastructure is a top priority of mine. I secured this  funding to ensure that the airport can continue to serve as a transportation and economic  hub for our community for years to come."  
DeKalb Airport has helped attract several large employers to our region, and the  enhanced perimeter fencing, which will be supported by the funding secured by Rep. Underwood, will maintain and grow the airport as an economic development asset.  
The fencing, which will greatly improve security, is a requirement for the airport to reach  a higher FAA status and service larger jet aircraft. This new market for the airport will  strengthen its financial position as arrivals and departures increase. At the same time, the upgraded status will help the region attract new types of businesses seeking an airport  with the capacity for larger aircrafts. 
"We are proud to serve as a transportation and economic hub for the region, and federal  investments like this one, which Rep. Underwood worked to secure, will enable us to  continue serving the community," said DeKalb Mayor Cohen Barnes. "We can't wait to  get started on this project!" 
This funding was submitted by Underwood through the Community Project Funding  initiative, through which Members can help direct federal funding to projects that address  the most pressing needs throughout northern Illinois. In 2022, Underwood selected 14  other projects that will directly benefit the 14th district. Learn more about the additional  projects at Underwood.house.gov.