Weekday mornings at approximately 7:35am, your mission, should you choose to accept it, is to answer a trivia question and win a great prize!
Have fun and good luck!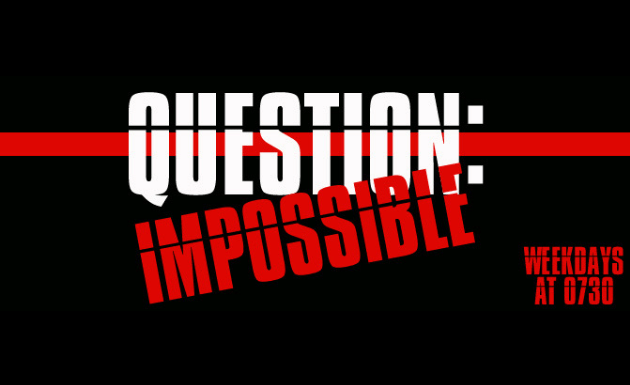 TRIVIA ARCHIVE
Friday March 13th
Question: Tomorrow is Pi Day! What is the mathematical term for the distance around a circle?
Answer: Circumference. Diameter is the distance from edge to edge. Pi is the ratio of a circle's circumference to its diameter, which is the same no matter the size of the circle.
Thursday March 12th
Question: HBD Liza Minnelli! A musical star, like her mom Judy Garland, Liza starred as Sally Bowles in this 1972 film which won her an Academy Award for Best Leading Actress.
Answer: Cabaret
Wednesday March 11th
Question: This organ is responsible for filtering your blood and removing wastes and extra water to make urine. They are located below the rib cage, one on each side of your spine.
Answer: Kidneys!
Tuesday March 10th
Question: Buffy the Vampire Slayer premiered on this day in 1997. Who starred as Buffy Summers in the TV series?
Answer: Sarah Michelle Gellar
Monday March 9th
Question: The Indian Creek High School Boys Basketball team is undefeated as they head into the Super-Sectional game against Aurora Christian tomorrow night at the Convo Center. What is the Indian Creek High School mascot?
Answer: The Timberwolves
Friday March 6th
Question: On this day in 1964, boxing legend Cassius Clay joined the Nation of Islam and changed his name. What was that name?
Answer: Muhammad Ali
Thursday March 5th
Question: Disney/Pixar have released their latest film – Onward! It stars the voices of Tom Holland and Chris Pratt. Both are stars of the Marvel Cinematic Universe. Which superheroes do they each play?
Answer: Tom Holland – Peter Parker/Spider-Man and Chris Pratt – Peter Quill/Star-Lord
Wednesday March 4th
Question: It is National Grammar Day! What do you call a word that describes a noun?
Answer: An adjective
Tuesday March 3rd
Question: Today would've been Alexander Graham Bell's birthday. What is he most famously known for inventing?
Answer: The telephone
Monday March 2nd
Question: It's Women's History Month! Which amendment gave women the right to vote?
Answer: the 19th Amendment
Friday February 28th
Question: How often does a Leap Year take place?
Answer: Every 4 years
Thursday February 27th
Question: What was the name of the fourth Indiana Jones movie?
Answer: The Kingdom of the Crystal Skull
Wednesday February 26th
Question: "The Office" is being turned into a children's book called "The Office: A Day at Dunder Mifflin Elementary" What is the name of the main character played by Steve Carell?
Answer: Michael Scott
Tuesday February 25th
Question: Happy Mardi Gras AKA Fat Tuesday AKA the day before Ash Wednesday! Polish communities in Chicago celebrate today by indulging in THESE sweet treats made of fried dough filled with jams, custards, and fruit. No they're not called donuts…what are these Polish sweets known as?
Answer: Paczkis
Monday February 24th
Question: Steve Jobs would've been 65 today. Steve Job was most recently portrayed by THIS actor in the 2015 film written by Aaron Sorkin and directed by Danny Boyle.
Answer: Michael Fassbender
Friday February 21st
Question: When was the last time the Chicago Bulls won an NBA Championship?
Answer: 1998
Thursday February 20th
Question: George Washington, as commander-in-chief of the Continental Army, established THIS military medal which is awarded to those wounded or killed while serving. It's known as the oldest military award still given to U.S. military members.
Answer: The Purple Heart
Wednesday February 19th
Question: Happy Birthday Millie Bobbie Brown! What character does she play in Stranger Things?
Answer: Eleven
Tuesday February 18th
Question: The Adventures of Huckleberry Finn was published on this day in 1885. Who is the author?
Answer: Mark Twain
Thursday February 13th
Question: Sonic the Hedgehog is out in theaters this weekend! Sonic first appeared in 1991 and became one of the bestselling video game franchises. He is owned by THIS Japanese company.
Answer: Sega
Wednesday February 12th
Question: Today is Abraham Lincoln's birthday! While we know Illinois to be the land of Lincoln, this is not where he was born. In which state was Abraham Lincoln born?
Answer: Hodgenville, KY. His family moved to Illinois when he was about 7
Tuesday February 11th
Question: Whitney Houston passed away on this day in 2012. Her rendition of I Will Always Love You still remains the best selling single by a woman in history. It's featured on the soundtrack of THIS film, which was also Whitney's screen acting debut.
Answer: The Bodyguard
Monday February 10th
Question: The cast of Friends is reportedly very close to finalizing a deal for a reunion special on HBO Max. What character did Matthew Perry play in Friends?
Answer: Chandler Bing
Friday February 7th
Question: It's Oscars weekend! Which movie won the Academy Award for Best Picture last year?
Answer: Green Book
Thursday February 6th
Question: The latest DC comics movie to hit theaters is Birds of Prey and the Fantabulous Emancipation of One Harley Quinn. Who stars as Harley Quinn?
Answer: Margot Robbie – she first played the role in Suicide Squad back in 2016.
Wednesday February 5th
Question: Happy Birthday to superstar soccer player (or futbol player to the rest of the world) Cristiano Ronaldo! What country is he from?
Answer: Portugal
Tuesday February 4th
Question: This week in 2004, Mark Zuckerberg launched Facebook from his dorm room. What university did he attend?
Answer: Harvard
Monday February 3rd
Question: February is Black History Month. The NAACP civil rights organization was founded in February. What does NAACP stand for?
Answer: National Association for the Advancement of Colored People
Friday January 31st
Question: Jennifer Lopez and Shakira will perform for the halftime show on Sunday. Who performed last year?
Answer: Maroon 5
Thursday January 30th
Question: JJ Watt is hosting SNL this weekend. Which NFL team does he play for?
Answer: The Houston Texans
Wednesday January 29th
Question: Happy Birthday Oprah! She is currently on her "2020 Vision Tour" which is all about promoting wellness and self-care. It's in partnership with THIS weight loss company which Oprah has been a spokesperson for since 2015.
Answer: Weight Watchers (now they are just WW International)
Tuesday January 28th
Question: Disney is working on a live action/CGI remake of their 1942 classic Bambi. In the movie, Bambi has two best friends. Of course, there is the rabbit named Thumper. Bambi was also friends with a skunk! What was his name?
Answer: Flower!
Monday January 27th
Question: RIP to basketball legend Kobe Bryant who tragically passed away in a helicopter crash over Southern California on Sunday. He was 41 years and had played his entire 20 year NBA career with the LA Lakers. He had two jersey numbers of the course of his career. He started as No 8 and then switched to which jersey number in 2006?
Answer: No 24. He was the first player in NBA history to have two different numbers retired by the same team
Friday January 24th
Question: Happy New Year! The lunar kind, that is. Saturday is the first day of year 4717 on the Chinese calendar, which is the year of the what animal?
Answer: The Year of the Rat
Thursday January 23rd
Question: The Gentlemen is the latest film from Guy Ritchie who is typically known for his crime films like Lock, Stock and Two Smoking Barrels, Snatch, Revolver, RocknRolla, Sherlock Holmes, and The Man from U.N.C.L.E. Oddly, the most recent film Guy Ritchie directed was a Disney live action remake that was less crime and more wishes. Name the 2019 Disney film written and directed by Guy Ritchie.
Answer: Aladdin
Wednesday January 22nd
Question: What was the first building on NIU's campus?
Answer: Altgeld Hall – it all started with the castle!
Tuesday January 21st
Question: Which of the main characters is not included in the first episode of Seinfeld?
Answer: Elaine! We wouldn't meet her until the 2nd episode which aired nearly a year after the pilot episode.
Monday January 20th
Question: Jimmy Garoppolo and the 49ers are going to the Super Bowl! What college did Jimmy go to?
Answer: Eastern Illinois University
Friday January 17th
Question: Robert Downey Jr stars in the family/comedy/remake Dolittle which is out this weekend. Name one of the actors that previously played the role of Dr. John Dolittle.
Answer: Eddie Murphy back in 1998 and Rex Harrison in 1967
Thursday January 16th
Question: It's Girl Scout Cookie season! What is the motto of the Girl Scouts? (Hint: it's the same as the Boy Scouts…and a song featured in The Lion King)
Answer: Be Prepared
Wednesday January 15th
Question: Netflix's hit comedy series Grace and Frankie is back today for it's 6th season. The show stars Jane Fonda and Lily Tomlin who first met on the set of this 1980 comedy alongside Dolly Parton!
Answer: Nine to Five – they've been friends ever since!
Tuesday January 14th
Question: Nearly 15 million people tuned in to the Jeopardy GOAT tournament last week. Day 4 is tonight. Ken could be crowned champion since he already has 2 wins. James has one. Brad is really struggling. What town is Jeopardy James from?
Answer: Naperville, IL
Monday January 13th
Question: What is Elton John's birth name?
Answer: Reginald Dwight
Friday January 10th
Question: Today marks 100 years since the end of WWI. What is the name of the peace treaty that was signed to end the war and which also created the League of Nations (now known as the United Nations)?
Answer: The Treaty of Versailles – signed in June 1919, went into effect on Jan 10 1920
Thursday January 9th
Question: Jennifer Aniston and Reese Witherspoon costar in Apple's new streaming series The Morning Show. Back in the day, Jen of course starred in Friends as Rachel. Reese made a few guest appearances to play her little sister Jill! What was their last name?
Answer: Green!
Wednesday January 8th
Question: Season 24 of The Bachelor kicked off this week. Name The Bachelor!
Answer: Peter Weber
Tuesday January 7th
Question: Jeopardy 'The Greatest of All Time' Tournament begins tonight! Name ONE of the three Jeopardy legends that will face off against one another?
Answer: Ken Jennings, Brad Rutter, or James Holzhauer
Monday January 6th
Question: It is 'Three Kings Day' or the Feast of the Epiphany in which Christians celebrate the arrival of the three wise men. What did the three kings bring as gifts to baby Jesus?
Answer: Gold, Frankincense, and Myrrh
Friday January 3rd
Question: On this day in 2004, this legendary radio DJ retired from hosting the American Top 40 countdown and handed it off to Ryan Seacrest. Name him!
Answer: Casey Kasem
Thursday January 2nd
Question: Welcome to the 20s! Name the author of The Great Gatsby.
Answer: F Scott Fitzgerald
Tuesday December 31st
Question: Millions of people tune in for the Rose Parade on New Year's Day. In what state does it take place?
Answer: Pasadena, California.
Monday December 30th
Question: LSU and Clemson have advanced to play in the college football national championship. What are their mascots?
Answer: Both are Tigers!
Friday December 27th
Question: We lost Carrie Fisher on this day 3 years ago. Name her famous parents.
Answer: Eddie Fisher and Debbie Reynolds
Thursday December 26th
Question: Today is Kit Harington's birthday! Jon Snow – King of the North – on Game of Thrones. What does he know?
Answer: Nothing! 'You know nothing, Jon Snow' – said by Ygritte the Wildling played by Rose Leslie who is Kit's real life wife!
Monday December 23rd
Question: In National Lampoon's Christmas Vacation, what does Clark Griswold spends his year-end bonus on?
Answer: A pool!
Friday December 20th
Question: The Winter Solstice is this weekend! It's the shortest day of the year, whereas the Summer Solstice is the longest day of the year. In which month does the Summer Solstice occur?
Answer: June! It'll be on June 20 in 2020
Thursday December 19th
Question: The Star Wars saga comes to and end this weekend. When did the FIRST Star Wars movie premiere?
Answer: May 25 1977 – 42 years ago!
Wednesday December 18th
Question: Eddie Murphy is hosting SNL this weekend for the first time since 1984! One of his most popular bits was playing the grown-up version of this Little Rascals character. What was his name?
Answer: Buckwheat!
Tuesday December 17th
Question: The Simpsons turns 30 today! It premiered on Fox back in 1989 introducing us to Homer, Marge, Bart, Lisa, and Maggie – who all have remained exactly the same age ever since. What town do they live in?
Answer: Springfield
Monday December 16th
Question: Colonel Sanders passed away on this day in 1980. He began selling fried chicken from his roadside restaurant in Corbin, Kentucky, during the Great Depression and then began franchising the restaurant in the 50s. In what state was the first "Kentucky Fried Chicken" franchise restaurant located?
Answer: Utah in 1952
Friday December 13th
Question: Happy Birthday Taylor Swift! Taylor is a self-proclaimed crazy cat lady. How many cats does she currently own?
Answer: 3 – Meredith, Olivia, and Benjamin Buttons
Thursday December 12th
Question:  What country originated the gingerbread house?
Answer: Germany
Wednesday December 11th
Question: We lost one half of Roxette yesterday when singer Marie Fredriksson passed away at the age of 61 after battling cancer for 17 years. What country is Roxette from?
Answer: Sweden
Tuesday December 10th
Question: Martin Scorsese has only won ONE Oscar in his entire career. He took home the Academy Award for Best Director for THIS 2006 film starring Leonardo DiCaprio, Matt Damon and Jack Nicholson. Name that 2006 crime/drama/thriller!
Answer: The Departed
Monday December 9th
Question: Lynda Carter starred as Diana Prince in the Wonder Woman TV series which ran for how many season?
Answer: 3. It ran from 1975–1979. Lynda first played the role in a Wonder Woman TV movie in a 1974
Thursday December 5th
Question: Today would have been Walt Disney's 118th birthday. In what city was he born?
Answer: Chicago!
Wednesday December 4th
Question: Back in 1994, Amazon.com was started by Jeff Bezos to sell what?
Answer: Books! It was a giant online bookstore which eventually expanded to sell everything else.
Tuesday December 3rd
Question: Alanis Morissette announced yesterday that she should would be going on tour in 2020 to celebrate the 25th anniversary of this Grammy award winning album!
Answer: Jagged Little Pill
Monday December 2nd
Question: In Ford v Ferrari, Ford is desperate to create a car fast enough to beat Ferrari in THIS famous 24 hour race which takes place in France. Name it!
Answer: Le Mans
Wednesday November 27th
Question: In a Charlie Brown Thanksgiving, what does Snoopy serve for Thanksgiving dinner?
Answer: Ice cream sundaes, buttered toast, pretzel sticks, popcorn and jelly beans
Tuesday November 26th
Question: Alice in Wonderland was published on this day in 1865. Who is the author?
Answer: Lewis Carroll
Monday November 25th
Question: Taylor Swift has won Album of the Year TWICE at the Grammy's. Name one of those albums.
Answer: Fearless or 1989 – she's the 1st woman to win Album of the Year twice
Friday November 22nd
Question: Mister Roger's Make Believe Neighborhood was full of beloved puppets. What was the name of the striped tiger puppet?
Answer: Daniel! He was the first puppet to appear on the show. He actually has his own animated show on PBS
Thursday November 21st
Question: This Best Picture Oscar winning movie starring Sylvester Stallone premiered in theaters on this day in 1976.
Answer: Rocky!
Wednesday November 20th
Question: Today is Ming-Na Wen's birthday! She is one of a few lucky people to hit the Disney Trifecta, with roles in the Disney, Marvel, and Star Wars universes. She is on Marvel's Agents of SHIELD, the Star Wars series The Mandalorian, and she voiced this animated Disney princess in 1998.
Answer: Mulan
Tuesday November 19th
Question: Today is Play Monopoly Day! Name all 4 Railroads.
Answer: Pennsylvania, B&O, Reading, Short Line
Monday November 18th
Question: Netflix dropped Season 3 of The Crown yesterday featuring a new cast to reflect how the royals have aged since we last saw them. Queen Elizabeth is now played by Olivia Coleman. Who played her in the first 2 seasons?
Answer: Claire Foy
Friday November 15th
Question: If you were a trained wine expert, what would you be called? What is the French term for a trained wine expert?
Answer: Sommelier
Thursday November 14th 
Question: It's National Pickle Day! What popular Cartoon Network/Adult Swim animated show features a character named Pickle Rick?
Answer: Rick and Morty
Wednesday November 13th
Question: Pierce Brosnan made his debut as James Bond on this day in 1995 when GoldenEye was released in theaters. He would play Bond in how many total films?
Answer: 4 – GoldenEye, Tomorrow Never Dies, The World is Not Enough, Die Another Day
Tuesday November 12th
Question: Disney launched their streaming service Disney + today! It features their live action remake of Lady and the Tramp. What kind of dog is Lady?
Answer: Cocker Spaniel
Monday November 11th
Question: Veterans Day was originally known by this name which celebrated the anniversary of the end of World War I.
Answer: Armistice Day
Friday November 8th
Question: Sesame Street Day is on Sunday. The show first premiered on Nov 10 1969 and is celebrating with a star-studded 50th anniversary prime-time special tomorrow on HBO. Who was the first celebrity to make a guest appearance on Sesame Street?
Answer: James Earl Jones
Thursday November 7th
Question: Who is the only woman to win the Nobel prize twice?
Answer: Marie Curie! The Nobel Prize in Physics in 1903 and the Nobel Prize in Chemistry in 1911.
Wednesday November 6th
Question: Roshambo is an alternative name of this hand game.
Answer: Rock, Paper, Scissors
Tuesday November 5th
Question: Here's a red letter date in the history of science: November 5, 1955! The day Doc Brown invented time travel! He was standing on a toilet, hanging a clock, then he slipped and hit his head. When he came to he had a vision … a picture of the invention that would make time travel possible! What is that invention called?
Answer: The Flux Capacitor
Monday November 4th
Question: How many keys do pianos have?
Answer: 88
Friday November 1st
Question: Which country was the first to adopt Daylight Saving Time?
Answer: Germany. In 1916, during WWI, in an effort to conserve coal.
Thursday October 31st
Question: From base to point, what is the order of colors on a piece of candy corn?
Answer: Yellow, orange, white
Wednesday October 30th
Question: On this day in 1938, Orson Welles narrated a radio broadcast of this sci/fi novel written by H.G. Wells. It supposedly caused a mass panic because listeners thought that a Martian invasion was actually taking place. What was the name of that sci/fi novel?
Answer: The War of the Worlds
Tuesday October 29th
Question: Happy Birthday Bob Ross! What was the name of his PBS show that aired from 1983 to 1994?
Answer: The Joy of Painting
Monday October 28th
Question: Dave Chappelle received the Mark Twain prize for American Humor at the Kennedy Center yesterday. Chappelle made his film debut in Mel Brooks' hilarious comedy Robin Hood: Men in Tights. What was the name of the character Dave Chappelle played?
Answer: Ahchoo
Friday October 25th
Question: 41 years ago, Michael Meyers began stalking Jamie Lee Curtis when Halloween first debuted in theaters. The movie takes place in what fictional Illinois town?
Answer: Haddonfield, Illinois  (it was filmed in South Pasadena, CA)
Thursday October 24th
Question: Happy Birthday Drake. Before he became a rapper, he initially gained his fame as an actor on this Canadian teen drama.
Answer: DeGrassi The Next Generation
Wednesday October 23rd
Question: Johnny Carson hosted The Tonight Show from 1962 – 1992. Who took over hosting after him?
Answer: Jay Leno from 1992 – 2009, then Conan for 6 months, then Leno again from 2010 – 2014. Now it's Jimmy Fallon.
Tuesday October 22nd
Question: The World Series begins tonight between the Astros and the Nationals! Who played last year?
Answer: LA Dodgers VS Boston Red Sox
Monday October 21st
Question: Over the weekend, Blockbuster would've celebrated its 34th anniversary, if Netflix hadn't murdered it. In what town was the first Blockbuster located?
Answer: Dallas, Texas – it opened October 19 1985 with around 8,000 tapes and 2,000 Beta tapes displayed on shelves.
Friday October 18th
Question: The Zombieland sequel is out in theaters this weekend. What's the 1st rule of Zombieland?
Answer:  Cardio! You have to be able to outrun the zombies!
Thursday October 17th
Question: On this week in 1884, the Universal Time Meridian was established in this town in England. When you look at a map, this town sits at 0 degrees longitude.
Answer: Greenwich
Wednesday October 16th
Question: Elton John released his first and only official autobiography yesterday. It's called "Me." What was Elton's birth name?
Answer: Reginald Kenneth Dwight. He legally changed his name in 1972 when he was 25.
Tuesday October 15th
Question: On this day in 1951, this iconic sitcom debuted on CBS and was the first scripted television program to be filmed in front of a live studio audience. Name it!
Answer: I Love Lucy!
Monday October 14th
Question: Chris Hemsworth is best known for playing Thor, but before he became the God of Thunder he starred in this 2012 horror comedy written by Joss Whedon and directed by Drew Goddard. Name that horror movie!
Answer: Cabin in the Woods
Friday October 11th
Question: Saturday Night Live premiered on this day in 1975. Who hosted the first episode?
Answer: George Carlin
Thursday October 10th
Question: Today is Jodi Benson's birthday. She is the voice of which Disney princess?
Answer: The Little Mermaid/Ariel!
Wednesday October 9th
Question: It's National Scrubs Day. In the TV series Scrubs, what was the name of the main character as played by Zach Braff?
Answer: John "J.D." Dorian
Tuesday October 8th
Question: It's World Octopus Day. Octopuses have 8 arms. How many hearts do they have?
Answer: Three
Monday October 7th
Question: The musical CATS opened on Broadway on this day in 1982. Who composed CATS?
Answer: Andrew Lloyd Webber
Friday October 4th
Question: Joaquin Phoenix stars in The Joker out this weekend. The Joker has come a long way since his first on screen portrayal in the 60s Batman series. What actor first played Joker on screen?
Answer: Cesar Romero (then Jack Nicholson, Heath Ledger, Jared Leto, and now Joaquin Phoenix)
Thursday October 3rd
Question: It's National Techie Day! You'll find many a techie in the southern San Francisco Bay Area of California…also known as what? Apple, Facebook and Google are all headquartered here.
Answer: Silicon Valley
Wednesday October 2nd
Question: Happy Birthday Kelly Ripa! She has been co-hosting ABC's morning talk show Live With… since 2001. Name one of the 3 men who have co-hosted with her over the years?
Answer: Regis Philbin, Michael Strahan, and Ryan Seacrest
Tuesday October 1st
Question: September is over. Somebody wake up Green Day. Who is the lead singer of Green Day?
Answer: Billie Joe Armstrong