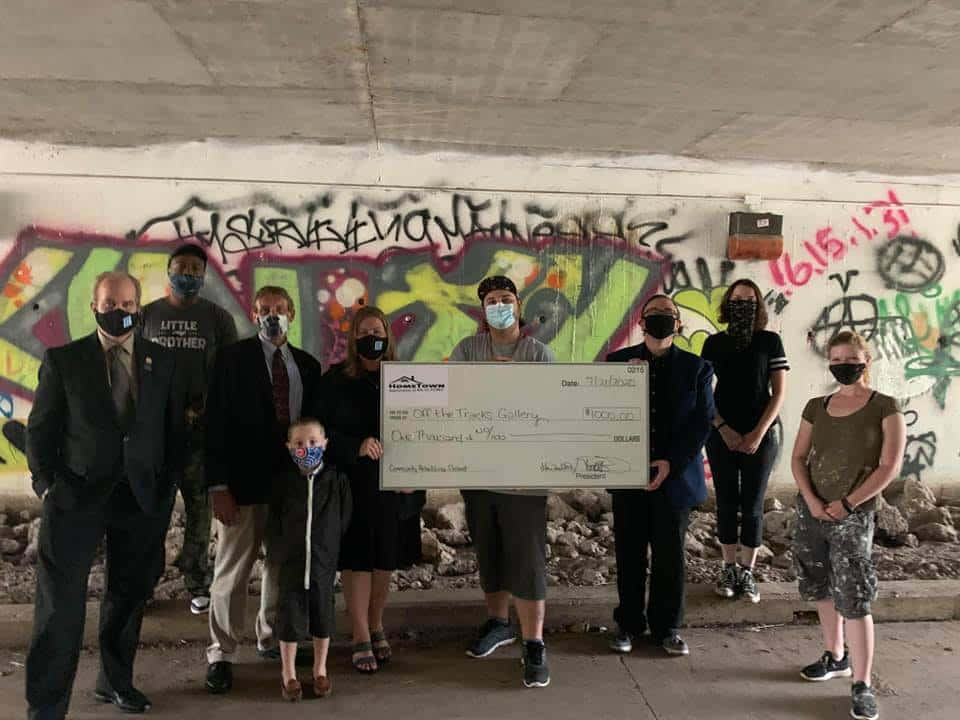 By the end of the July, work will begin on a new two-walled mural at the pedestrian underpass that connects Northern Illinois University and Prairie Park.
HomeTown Association of REALTORS (HAR) received a $1,000 grant from the National Association of REALTORS (NAR) to address graffiti cleanup in the wake of recent racial injustice demonstrations after the death of George Floyd.
HAR collaborated with DeKalb 5th Ward Alderman Scott McAdams and DeKalb-based artist Aaron Robertson from Off the Tracks Gallery to implement NAR's Community Rebuilding Grant to create a mural. The grant will help pay for paint and supplies. The artists will volunteer their time and work.
Rather than merely cleaning up the graffiti, McAdams wanted to create something meaningful. As a first step, McAdams contacted Robertson to cover up black-lettered graffiti at the underpass with the word "unity."
Robertson was using spray paint to create the one-word design in the middle of the day when he was met with opposition. Passersby commented that he should just paint the wall white and the police were called, even though Robertson had permission from the City of DeKalb.
"I as an artist want to step up and create a mural that brings the community together during these trying times," he said. "There's a lot of hatred online and too much negativity. Enough is enough. It's 2020. It needs to stop. We need unity and peace."
Robertson, who is spearheading the mural design, said that the artistic message will be unity. Robertson will create the mural with four Northern Illinois University art students: Shannon Gallagher, Jordan Jacobs, Rachel Tarant and Ivy Vargas.
Robertson said that one of the mural's quotes will read "Come together as a community to form unity."
A mural saver top coat will be applied to the mural once it is finished to protect it against graffiti and river water when there is flooding.
Robertson said that donations are welcome, especially of ladders and wooden pallets and plywood to make platforms for artists to stand on as they paint.
For more information about the mural, contact Illinois REALTORS Government Affairs Director Neeley Erickson at 815-543-7147 or nerickson@illinoisrealtors.org or Robertson at offthetracksgallery@gmail.com.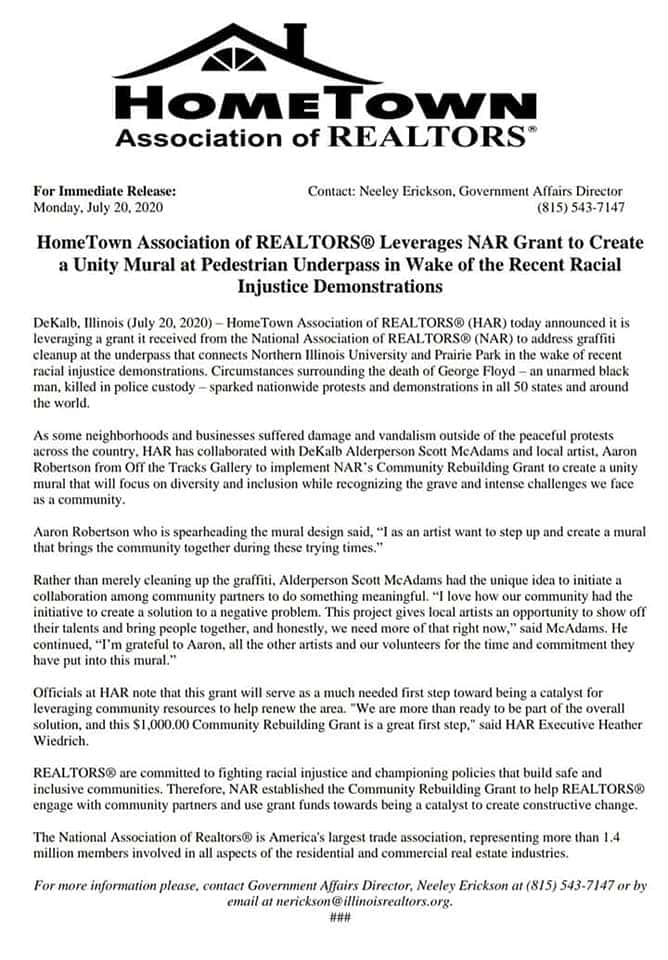 ---