They bring you comfort, joy and unconditional love, so 94.9 WDKB and Paw Lickin' Good would like to introduce you to the adoptable Pet of the Week.
Meet Sophia: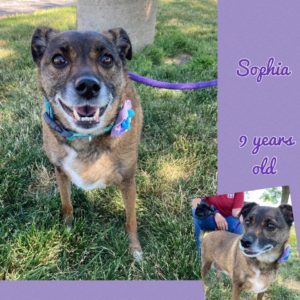 "Woe is me! I'm Sophia, I'm 9 1/2 yrs. old, and I don't have a person to call my own anymore. My loved one had to go into assisted living. I'm was really scared and confused when I first lost my home and came to Tails but I'm beginning to come out of my shell after meeting lots of nice staff and volunteers. But nothing beats a home! I'm a nice size at 35lbs, but I don't think I'm as beautiful or cute as so many other dogs so I worry no one will want me. I'm a good girl and friendly with all I've come to know and trust. I'm house-trained and know to "come" and "stay". I don't insist on a lot of attention and won't need a zillion walks a day. Won't you PLEASE give me a home? A shelter is no place for a sweet senior to be spending her days!"
---
COVID 19 UPDATE
Effective Sun 3/21, Tails Humane Society is closed to anyone except essential employees. They have found foster homes for the majority of the pets in the shelter, but still have more staying there. If you are interested in being a short term foster, please complete the application on their website and their Foster Coordinator will be in touch soon.
Want to help? Tails needs pet food to supply those in the community who may find purchasing pet food outside their means in this difficult time. You can find these items on Tails' Amazon Wishlist and have them shipped right to their door.
Tails also encourages you to prepare a plan for your pets in case you become sick. Consider reaching out to friends and family to provide support for your pets in the event of illness or hospitalization.
Visit TailsHumaneSociety.org for more info.
---