2021 St Paddy's Day .1K Benefiting Lurie Children's Hospital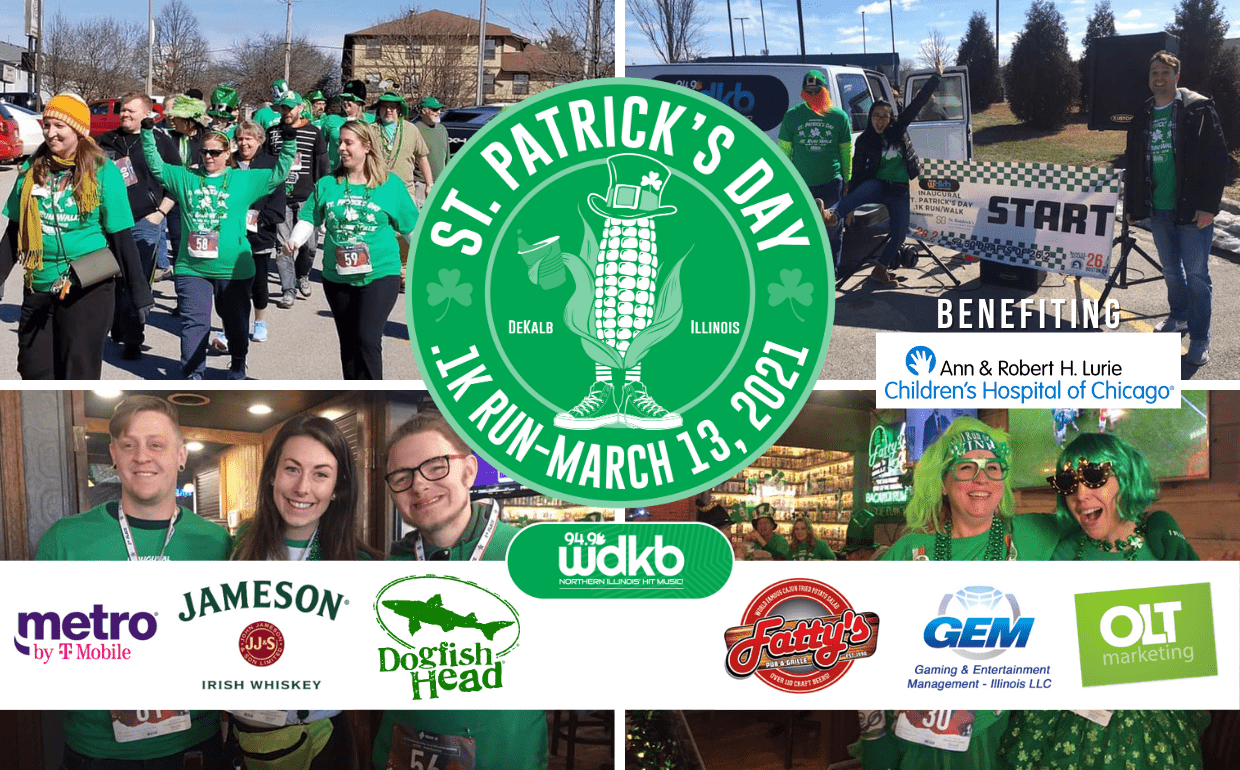 It's back! We are hosting our 3rd annual St Patrick's Day .1K on Saturday March 13th 2021. You are invited to take part in the world's shortest run/walk. It's .1k … that's 328 feet!
Registration is now open! 20 bucks gets you an event t-shirt, racing bib, commemorative pint class, and a swag bag stuffed with goodies. Plus, a portion of the registration fee will go to Lurie Children's Hospital.
This year, you can choose to participate virtually or run the race on site. The onsite race will take place at Fatty's Pub & Grille in DeKalb on Saturday March 13th from 10am-2pm. We will have waves of people running to accommodate social distancing. Every 10 minutes we will allow a group of "runners" to complete the course. If you choose the virtual race option you can pick up your swag bag on March 13th from 10am-2p. Be sure to share your photos on Facebook or Instagram and tag us so we can celebrate your athleticism! (Note: there will be no pre-pick up available for swag bags for virtual or onsite runners.)
Space is limited, so register now for our 3rd annual St Patrick's Day .1K benefiting Lurie Children's Hospital with Fatty's Pub & Grill, Metro by T- Mobile, Dogfish Head Craft Beer, Jameson Irish Whiskey, OLT Marketing, GEM Gaming, and 94.9 WDKB!
*THIS IS A 21 AND OLDER EVENT*
Requested shirt size is guaranteed up until March 5th.
---
COVID-19 Policy
The coronavirus, COVID-19, has been declared a worldwide pandemic by the World Health Organization. COVID-19 is extremely contagious and is believed to spread mainly from person-to-person contact. As a result, federal, state, and local governments and federal and state health agencies recommend social distancing and increased personal protection efforts, including frequent hand washing and wearing face coverings at all times outside the home.
Mid-West Family cannot guarantee that you (or those you come in close contact with) will not become infected with COVID-19. Further, attending a Mid-West event (including your travel to and from such event) could increase your risk of contracting COVID-19.
By purchasing a ticket and/or attending the Mid-West Family event:
You acknowledge the contagious nature of COVID-19 and voluntarily assume all risk that you may be exposed to or infected by COVID-19 and that such exposure or infection may result in personal injury, illness, permanent disability, and death to you or those with whom you come into close contact.
You further acknowledge and agree to accept sole responsibility for any injury (including, but not limited to, personal injury, disability, and death), illness, damage, loss, claim, liability, or expense, of any kind, to you or those with whom you come into close contact (including your household members)("Claims"). You hereby release, covenant not to sue, discharge, and hold harmless Mid-West Family, its employees, board of directors, and representatives, of and from any Claims, including all liabilities, claims, actions, damages, costs or expenses of any kind arising out of or relating thereto.
You further understand and agree that this release includes any Claims based on actions, omissions, or negligence of Mid-West Family, its employees, board of directors, and representatives, event partners and sponsors, whether a COVID-19 infection occurs before, during, or after participation in any Mid-West Family event.
You agree to abide by posted rules, warning or instructions by Mid-West Family, the venue where the event is held and any government authority with respect to social distances, adherence to any dress code (including mandatory face coverings) and sanitation guidelines.
You further agree not to attend the event if you are diagnosed with or suspect that you may have been infected by COVID-19, and in the event you become ill or suspect you have been infected with COVID-19, you agree to immediately discontinue your participation in the event.
If you cannot agree to or accept the foregoing, DO NOT ATTEND THE EVENT. Failure to agree to or abide by any of the foregoing may result in denial of entry or immediate expulsion from the event, in Mid-West Family's sole discretion, in addition any and all remedies which may be available to Mid-West Family in equity or at law.