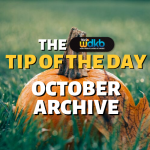 Thursday October 31st
Bring an extra bag when you go trick or treating, just in case yours breaks!
Wednesday October 30th
Turn your old smartphones and tablets into security (or pet) cameras! There are lots of free apps that let you monitor your home remotely on your current phone using the camera on your old devices.
Tuesday October 29th
You can use emojis on a desktop computer! Pull up a mini emoji menu anywhere you type with these commands
For Mac: Press control+command+spacebar
For PC: WIN + Period
Monday October 28th
Did you carve a pumpkin over the weekend? Make sure to rehydrate it daily to stop it from shriveling up and losing its shape. Spray it with water mixed with a few drops of bleach which will help keep it moist and kill off bacteria.
Friday October 25th
As the weather gets colder, make sure to check your tire pressure. In general, for every 10 degrees it drops, that's 1 less PSI in your tire.
Thursday October 24th
In the winter, ceiling fans should rotate clockwise at a low speed to re-circulate warmer air trapped near the ceiling down to the floor level.
Wednesday October 23rd
Glue a few magnets to the base of your drill so you can always have your screws at the ready when working.
Tuesday October 22nd
Charge your phone up to 3x faster by putting it on airplane mode.
Monday October 21st
A tip from the Sycamore Fire Department for those of you that have a car with keyless start! Avoid accidentally leaving your car running in the garage by making sure to always take your key ignition fob with you. Most key fobs will sound an alarm if it gets too far from the running car.
Friday October 18th
Green tea is the best drink to manage hunger pangs at odd hours. One cup of green tea can help stop you from binge eating unnecessarily.
Thursday October 17th
When gifting cash to kids, make it more exciting by breaking it up into as many bills as you can.
Wednesday October 16th
Whenever you see a deer crossing the road, always assume that there will be other deer following it. Deer like to travel in packs, while following each other, so make sure to drive with caution.
Tuesday October 15th
When making nachos, put a tortilla underneath the chips. It will catch all the toppings that fall off and you'll have a delicious taco afterwards.
Monday October 14th 
When you sign up for anything online, put the website's name as your middle name so if you receive spam, you'll know who sold your info.
Friday October 11th 
Want to find the best spot to eat at an airport? Look at where the flight attendants and flight crew are eating. Chances are they've been there many times and know where the best spots are.
Thursday October 10th
Applying to a job? Make sure you send your resume to people in a PDF format (unless specified otherwise).
Wednesday October 9th
Save old bread tabs and use them to help keep the spot at your tape rolls. No more picking at the corners to find where the tape begins!
Tuesday October 8th
Drinking 2 cups of COLD water on an empty stomach will help boost your metabolism by up to 30%. Drink water, lose weight!
Monday October 7th
Looking to clean your window screens? Try running a lint roller over them.
Friday October 4th
It's National Taco Day! To easily soften tortillas, place 4 soft shells between two slightly damp paper towels and microwave for about 15 to 20 seconds
Thursday October 3rd
To create a space for prepping foods in a small kitchen: Pull out a drawer and stack a cutting board on top of it.
Wednesday October 2nd
Dry clothes faster by throwing a clean, dry towel into the dryer.
Tuesday October 1st
Perfume can break down when exposed to heat and air. Help preserve it's scent by storing it in the fridge.