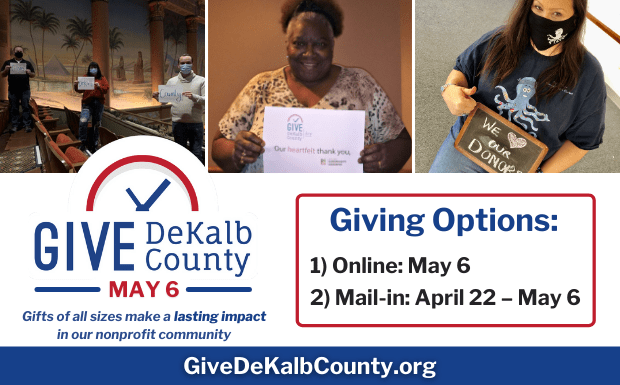 May 6, 2021 is Give DeKalb County, a great way to support your favorite nonprofit organizations!
From Midnight to Midnight at GiveDeKalbCounty.org  donations can be made to your favorite DeKalb County nonprofit organization.
There are MANY organizations participating. Each are listed individually below and all can use our help. No dollar amount is too small, as it will directly benefit the participation organizations.
You can choose to donate directly to an individual location or to the Bonus Pool. Each donation made will get BOOSTED by a portion of the Bonus Pool! That means every dollar donated goes even further.
The Bonus Pool is distributed to participating nonprofits. If a nonprofit raises 2% of the grand total of donations, they will receive 2% of the Bonus Pool, if they raise 5% of the grand total, they receive 5% of the grand total and so on.
Anyone can donate to the Bonus Pool! Businesses, foundations or individuals.
Participating Organizations include:
4-C: Community Coordinated Child Care
Act of Grace
Adventure Works
Arcomusical
Association for Individual Development
Barb City Manor
Barb Food Mart
Ben Gordon Center
Building Leaders Advocating for Change
Camp Cedar Illinois Inc.
CASA (Court Appointed Special Advocates) DeKalb County, Inc.
Celebration Chorale
Children Community Theatre (CCT)
Children's Home & Aid
Children's Learning Center
Consumer Advocacy Council of DeKalb County
Cru
DeKalb Area Agricultural Heritage Association
DeKalb Area Alano Club
DeKalb Area Women's Center (DAWC)
DeKalb County 4-H Foundation
DeKalb County Community Gardens
DeKalb County COVID-19 Response Fund
DeKalb County Crime Stoppers, NFP
DeKalb County Economic Development Corporation/DCEDC
DeKalb County Farm Bureau Foundation for Agriculture
DeKalb County History Center
DeKalb County Nonprofit Partnership (DCNP)
DeKalb County Nursing Home Foundation
DeKalb County Pheasants Forever
DeKalb County Youth Service Bureau, Inc.
DeKalb Education Foundation
DeKalb Festival Chorus
DeKalb Music Boosters
Dimensions Youth Ballet
Elder Care Services Endowment Fund
Elder Care Services of DeKalb County
Ellwood House Museum
Ellwood House Racial Diversity Internship Fund
Epilepsy Advocacy Network
Equine Dreams, Inc.
Everyday Better Initiative
Family Service Agency
Farmworkers & Landscaper Advocacy Project – FLAP
Fox Valley Community Services
Friends of DeKalb County Treatment Courts
Friends of DeKalb Regional Office of Education
Friends of Gurler House NFP
Friends of JAMS
Friends of Shabbona Lake State Park
Friends of DeKalb Public Library
Friends of the Sycamore Library
Genoa-Kingston United Way, Inc.
Girls on the Run of Northwest Illinois
Give DeKalb County Bonus Pool
Glidden Homestead and Historical Center
Goodfellows of DeKalb/Sycamore
Habitat for Humanity of DeKalb County
Hinckley Area Food Pantry
Hinckley Historical Society
Hope Haven of DeKalb County, Inc
Just Make it Happen, Inc.
Kirkland Historical Society
Kishwaukee College Foundation
Kishwaukee Concert Band
Kishwaukee Family YMCA
Kishwaukee Family YMCA Endowment Fund
Kishwaukee Symphony Orchestra
Kishwaukee United Way
Kishwaukee Valley Heritage Society
KVAL nfp (Kishwaukee Valley Art League)
Leland Historical Society
Little Lambs Preschool of Immanuel Lutheran Church
Love in the Name of Christ DeKalb/Sycamore
M. Joan Popp Women's Endowment Fund for DAWC
Neighbors' House
Network of Nations
North Grove School Association (NGSA)
North Grove School Preservation Fund in Memory of Kenneth Marsh
Oaken Acres Wildlife Center
Open Door Founder's Fund
Open Door Rehabilitation Center
Open Hands Preschool
Opportunity DeKalb
Opportunity House
Passion over profit foundation
Passion Pursuit Inc
Pay-It-Forward House, NFP
Preservation of Egyptian Theatre, Inc.
Pushing Together NFP
RAMP Endowment Fund
RAMP (Regional Access Mobilization Project, Inc.)
Randy's Rescue NFP
Raven's Husky Haven and Rescue
Safe Passage
Saint Mary Catholic School in DeKalb, Illinois Guardian Angel Tuition Assistance Fund
Saint Mary School, Sycamore – Guardian Angel Fund
Sandwich Opera House – Assoc to Restore City Hall Inc.
Sandwich Park Foundation
Shabbona Pathway
Somonauk Education Foundation
Somonauk Education Foundation Endowment Fund
Spartan Food Pantry
Stage Coach Players
Stage Coach Players Fund
St. Vincent de Paul – St. Mary/Christ The Teacher Conference
Summer Lunch and More
Sycamore Education Foundation
Sycamore Lions Charities
Sycamore Lions Charities Jack Shrout Fund
Sycamore Music Boosters
Sycamore Sports Boosters
Sycamore Sports Boosters Endowment Fund
Tails Humane Society
Tanzania Development Support
The Barn on Baseline Animal Shelter & Adoption Center
The Growing Place
The Salvation Army DeKalb Corps Community Center
The Shriner Kids Foundation
Trinity Lutheran Preschool
United Leukodystrophy Foundation
UUFD Welcome Essentials Pantry
Voluntary Action Center
Voluntary Action Center Endowment Fund
Walcamp Outdoor Ministries
Waterman Community Chest
Waterman Lions Club Charities, Inc.
We Care Pregnancy Clinic
Westminster Presbyterian Church – Mobile Food Pantry
Youth Engaged in Philanthropy (YEP)
Youth Outlook
Can Give DeKalb County count on your donation?