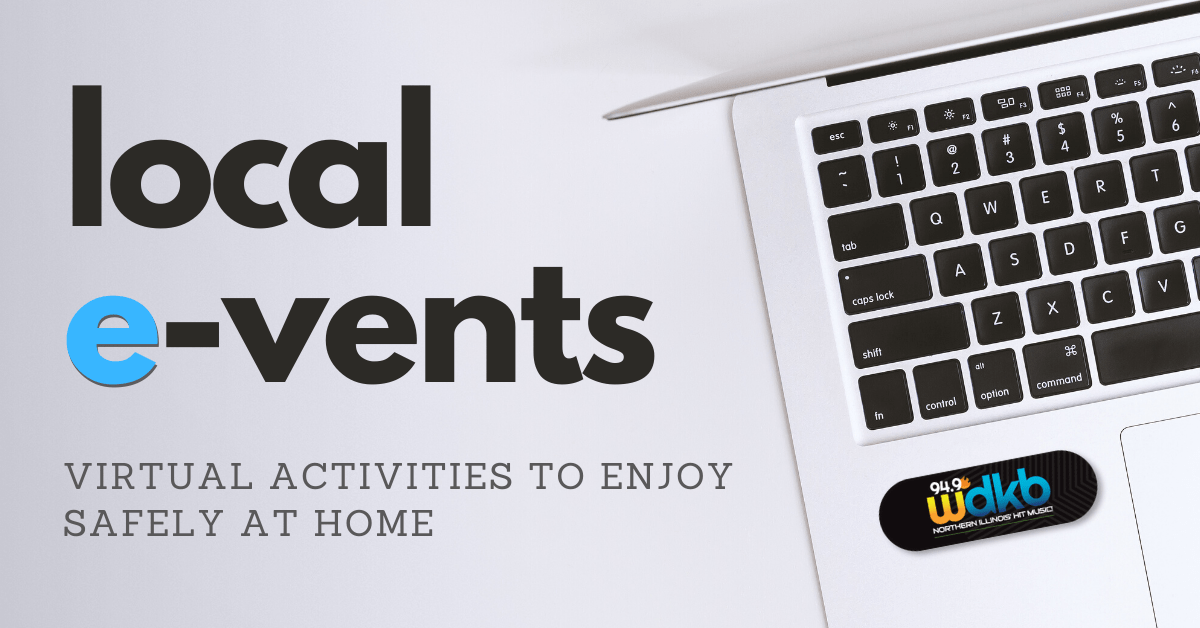 It's been strange trying to adjust to a world without events and activities. Luckily, several area organizations are now offering virtual activities to keep individuals and families engaged while safe at home.
If your group or organization is offering a virtual "e-vent" that is not listed below, please email details to monica@949wdkb.com
VIRTUAL FITNESS
Creative Therapeutics – Healthy Habits Videos … also check out their YouTube page for more!
DeKalb Chamber – Keep Calm Moments (videos uploaded to their Facebook page)
Kishwaukee Family YMCA – Virtual Fitness Classes
Northeast Family YMCA LIVE Club Craze Class via Zoom – Mon&Wed at 6:30pm and Sat at 10:30am
Sycamore Library – Family Fun Yoga Tips from Angelina (shared via Facebook)
Sycamore Park District – Virtual Fitness Videos and Digital Coaching
Sycamore Park District – Trail Etiquette
Sycamore Park District – Nature Talks: Health Benefits of Getting Outside – Thurs Apr 16 at 7pm via Facebook
---
AT HOME LEARNING & ENTERTAINMENT
Burpee Museum of Natural History – E-Learning Series via Facebook 
DeKalb County History Center – At Home Lesson Plans
DeKalb County UNITES – Getting Ready for Recovery: Navigating the New Normal – every Monday, Wednesday, and Friday at 2 p.m via Facebook
DeKalb Early Learning Development Center – Read Alouds (shared via Facebook)
DeKalb County Community Garden – How to Plant Tomatoes
DeKalb Public Library – Resources for At-Home Learning
DeKalb Public Library – Virtual Superhero Story Time – Wednesdays at 10am via Facebook
Discovery Center Museum – LIVE Playful Learning Series – sharing fun videos with art and science experiments via their YouTube page
Kishwaukee College Community Education – hosting several virtual personal enrichment courses from dance, cooking, floral arrangements and more!
NIU Virtual STEMCafe: DeKalb County Health Department's COVID-19 Response Webinar – shared on their YouTube channel
NIU Virtual STEMCafe: Stressed and Depressed? You're Not Alone – shared via their YouTube Channel
NIU Virtual STEMCafe: The Science Behind the Virus – Wed Apr 29 at 6pm via Adobe Connect
NIU Virtual STEMCafe: Healthy Eating – Wed May 13 at 6pm via Adobe Connect
Paramount Theatre – Connection: A Social Media Concert Series
Safe Passage – Online Book Club – Wednesdays at 1pm, Discuss in Weekly Facebook Live Sessions
Safe Passage – Family Story Time – Thursdays at 10am (shared via Facebook)
Sycamore Library – Musical Mornings at Home with Angie Carter on Fridays at 10am
Sycamore Library – Online Crafting, Cooking, and Art Resources
Sycamore Library – Story Time and STEAM Saturdays (shared via Facebook)
Sycamore Park District – Virtual Activities – Cooking, STEM. Dance, and more!
---
VIRTUAL TOURS
DeKalb Area Agricultural Heritage Association (DAAHA) – Virtual Historical Tours
Egyptian Theater – Virtual Hard Hat Tours – Tuesdays at 5:30pm on Facebook
---
SOCIAL DISTANCING FRIENDLY COMMUNITY EVENTS
Sycamore Park District Home Cooking Competition
The competition is open to any Sycamore resident or Sycamore student. Here's the catch: you can only use six ingredients. Send photos of your at home cooking masterpiece to the Park District by Fri Apr 17th. They'll share all the participants on their FB page and the winner will get a $25 gift certificate for groceries and cooking utensils!
DeKalb County Community Gardens Grow Mobile Stops
DCCG's Grow Mobile pop-up food pantry will make regular stops throughout the county to provide food to anyone in need. All food packages are pre-packed and will be distributed drive-thru style. All are welcome, but for the safety of residents, staff and volunteers, please remember to practice good hand hygiene and stay home if you are sick.
Kishwaukee Family YMCA Distributing Emergency Food Bags
The Kishwaukee Family YMCA has partnered with the Northern Illinois Food Bank to offer drive thru pickup of nonperishable food every other Friday from noon until 2 pm. The pick-up is a first-come, first-served basis. Drivers should come around the back of the YMCA building on Bethany Road where a Y volunteer will place the bag or box of food into the trunk or back of their car, maintaining proper social distancing.
Shop local and you could win! The DeKalb Chamber Leadership Academy is helping to support local businesses through the COVID-19 crisis by expanding on the statewide ILoveLocal campaign. From April 11th until April 30th, purchase a gift card from a participating DeKalb business and for every $5 purchase you will be entered into the DeKalb Loves Local raffle. 
Voluntary Action Center Meals for Moms At Home Fundraiser
Due to current events, VAC has had to cancel their annual Meals for Moms Luncheon. Instead, this year's Meals for Moms event will take place at home! You can still celebrate moms and support VAC by purchasing virtual meals via their GiveGab fundraiser page.
A Facebook Group that encourages you to share the hearts you see in the world! People have been hanging beautiful paper heart collages on their windows, drawing chalk hearts on sidewalks, sewing heart patterns into blankets, or even carving hearts into their fruits.
Put a teddy bear in your window so kids can walk by and count how many they find.
Take a moment to appreciate the arrival of spring by sharing photos of buds and blossoms online using the hashtag #BlossomWatch