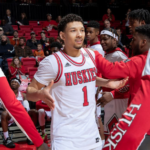 The Northern Illinois University men's basketball team will host Appalachian State in its initial matchup in the MAC-Sun Belt Challenge, announced by the league offices on Thursday (June 22). The Huskies will welcome Appalachian State to the NIU Convocation Center on Saturday, Nov. 11.
This season marks the first year of the MAC-SBC Challenge — a scheduling alliance in both men's and women's basketball. The second MAC-SBC Challenge contest for each team will take place on Saturday, Feb. 10, 2024, with the matchups based on real-time NET rankings and announced in January. The MAC men's basketball teams will be on the road for the February matchups.
Each MAC and Sun Belt team included in the MAC-SBC Challenge, currently scheduled to take place during the 2023-24 and 2024-25 campaigns, is guaranteed one home and one away game each season.
Scheduling assistance is provided by Ordinal Sports Group. In addition to relevant NET data, geography and frequency of past contests are considered in determining the matchups. Each MAC-SBC Challenge game will be carried on an ESPN platform.
This year's contest will be the first all-time meeting between NIU and Appalachian State. Season ticket information and NIU's complete 2023-24 schedule will be announced at a later date.
MAC-SBC Challenge Men's Basketball Matchups
Wednesday, Nov. 8
Troy at Ohio
Thursday, Nov. 9
James Madison at Kent State
Saturday, Nov. 11
Southern Miss at Akron
Louisiana at Toledo
Old Dominion at Ball State
South Alabama at Buffalo
Arkansas State at Bowling Green
App State at Northern Illinois
Texas State at Miami
Georgia Southern at Eastern Michigan
Georgia State at Western Michigan
ULM at Central Michigan