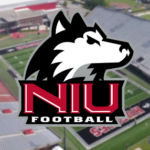 Fifteen practices into Northern Illinois University's preseason football camp and two weeks prior to kick off of the 2023 season at Boston College on Sept. 2, NIU head coach Thomas Hammock switched up the second scheduled scrimmage Saturday. Instead of having the team come out in full pads and tackling, the veteran Huskies practiced in shorts, shoulder pads and helmets with a focus once again on situational football and attention to detail.
"I like where we are," Hammock said after the 1:50 minute workout.  "We got in about 100 plays [of 11 versus 11 full pads] early in the week and I liked where the guys were at from a mentality standpoint, from a physicality standpoint.  At this point, we pretty much know our team so for us to come out here and beat each other up another day, that didn't make sense to me. We still have to continue to get better, but I think they've brought the energy, the focus, the attention to detail and the physicality that are going to show up on September 2nd."
Early in practice, the defensive line certainly looked ready with defensive end Ray Thomas in the backfield for a [non-contact] tackle for loss, and a sack, with veterans James Ester, Devonte O'Malley and Demond Taylor also making plays at the line of scrimmage. That group has benefitted from the overall improvement Hammock said he has seen at all levels of the Huskie defense.
"In totality the whole defense has gotten better," Hammock said. "Our coverage has gotten better which allows the defensive line to tee off a little bit more. Our linebackers have been really good in coverage, we feel there are two really good linebackers out there that can stop the run and cover guys and can run. Collectively each segment has improved which allows the strength of our team to get better."
Hammock called the continuing improvement he has seen from the defense one of the most pleasant outcomes of camp to date.
"In the spring the defense stepped up," Hammock said. "I was curious to see if they would continue to step up this fall camp and they have raised their level of play even more."
On the topic of surprises coming out of camp so far, Hammock mentioned young players like freshman safety Santana Banner (Flint, Mich./Mountain View [Ga.] HS), freshman offensive lineman Thomas Paasch (Green Bay, Wis./Green Bay Southwest HS) and redshirt freshman offensive lineman Evan Malcore (Sun Prairie, Wis./Sun Prairie HS) while also praising junior Antario Brown's maturity as he steps into the role as NIU's number one running back. Brown burst through for several nice runs during 11-on-11 periods as did junior Justin Lynch.
"Santana banner is a young freshman safety who came [in the spring] and has been a pleasant surprise defensively," Hammock said. "Offensively, we have two young offensive linemen in Evan Malcore and Tommy Paasch, hopefully they don't have to play a lot, but if they are called into action, I think they'll be ready to play. I've been pleased with Antario Brown's maturity. It's hard to be the number one back, and what that takes day in and day out from a consistency standpoint."
The last 15 minutes of Saturday's practice did feature full contact and tackling as the team's young players, who were dressed in full pads, had an opportunity to develop and showcase their skills with the veterans on both sides of the ball getting fired up as players on their side of the ball made plays.
"We did give the young guys an opportunity to get after it," Hammock said. "They had a lot of energy, a lot of juice. It was good to see those guys and to see those older veteran players cheering those guys on. For us it's about practicing with a purpose, situational football and the things we need to work keep refining so we can get ready to play our first game."
On Sunday, the Huskies will run through their game routine in the annual "mock game" practice, from pregame warm-ups to special teams units, to other non-traditional situations. That will be followed by an off day on Monday.
Follow all the action from NIU Football preseason practices, including position previews, videos and more, go to 2023 Preseason Football Camp Central on NIUHuskies.com.
Season, single game and mini-plan tickets for the 2023 Huskie home games are all on sale now 24 hours a day, seven days a week online at NIUHuskies.com/myhuskies or by calling the NIU Athletics Ticket Office at 815-753-PACK (7225). Season tickets provide the best overall value at as little as $17 per game for general admission seating on the West Side of Huskie Stadium ($102 total). Sit in the same reserved seat for all six games for just $144 (sections A, B, F) or $162 (sections C, D, E). With the addition of the new Homecoming + One option, there are three "Pick Your Pack" mini-plans available, including Saturday Only and MACtion+Saturday four-game plans. See all the ticket prices and options, including premium experiences, here.