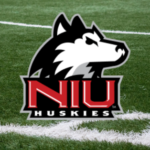 The Northern Illinois University men's soccer team begins the 2023 regular season with a pair of home games as the Huskies welcome Western Illinois to DeKalb on Thursday, Aug. 24, at 5 p.m. and Memphis on Sunday, Aug. 27, at 2:30 p.m. at the NIU Soccer Complex.
Both contests are part of doubleheaders with the NIU women's soccer team, which plays at 8 p.m. on Thursday and 12 noon on Sunday. Admission to all NIU soccer games is free of charge.
"We have all the new students moving onto campus today, there is excitement, the athletic programs are getting up and running, so it will be fantastic to get out in front of the home crowd and hopefully get off to a positive start," said NIU head coach Ryan Swan. "When we have a loud and excited crowd out there, it fires the guys up. It makes it a more difficult environment for the opponent.
"Against Graceland, in our last exhibition game, it was fun hearing the crowd. We appreciate the women's soccer team, the other student-athletes and some of the fraternity guys that were out there, it really helps. We would love to establish soccer as a major part of the fall activities here at NIU and if the fans come out and engage with it, it will be good for everyone."
NIU returns 13 players who saw action in 2022, including 10 different players who scored goals a season ago. Taisei Arima (Machida, Japan/Seiryo) is NIU's leading returning scorer, having tallied three goals and seven points in 2022. NIU also has 12 newcomers, with four transfers and eight freshmen.
Western Illinois is coming off a 2-8-7 season in 2022. The Leathernecks lost just two road games a season ago, finishing 1-2-4 away from Macomb. NIU leads the all-time series against Western Illinois, 27-7, including a 1-0 victory last season in Macomb. Enrique Banuelos scored the lone goal in the 50th minute to give the Huskies a 1-0 road win a season ago (Sept. 17, 2022).
"The weather will be tricky (Thursday), so we have to manage that," said Swan about Thursday's game. "There will be excitement, from both teams, to get on the field. But we have to manage the weather and make sure we don't run ourselves into the ground. The expectation is to just keep growing on what we have done in preseason, hopefully get control of the ball early and instill our style of play on the game."
Memphis opens the season at Green Bay on Thursday night before coming to DeKalb on Sunday. The Tigers posted a 9-6-4 mark in 2022, including a 5-3-1 record in the American Athletic Conference, and earned a bid to the NCAA Tournament, where they fell to Saint Louis in overtime in the opening round. Memphis had two players named to the AAC Preseason All-Conference Team, Alberto Cruz and Lineker Rodrigues dos Santos both earned the preseason accolade. Sunday's contest is the first all-time meeting between NIU and Memphis.
"It will be interesting playing someone we are not as familiar with," said Swan. "I have a huge amount of respect for Memphis, they made the national tournament last year. Those guys have done a great job with that program, and it should be a competitive, exciting game."
Following this weekend's pair of home games, NIU will hit the road for the first time in the regular season when it travels to Notre Dame on Friday, Sept. 1.