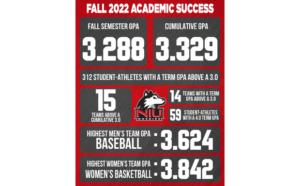 Northern Illinois University student-athletes closed out 2022 with a strong showing in the classroom as the Huskies finished the fall semester with a term grade point average of 3.288, the 19th straight semester with a collective term GPA above 3.0. The fall term also ended with 12 Huskie student-athletes completing either a bachelor's or master's degree from NIU.
"Semester after semester, year after year, Huskie student-athletes continue to excel in the classroom and this fall was no different," said Sean T. Frazier, NIU Vice President and Director of Athletics and Recreation. "We are extremely proud of their academic accomplishments; congratulations to all, to the staff in our Student-Athlete Academic Support Services (SAASS) unit and to the coaches as we continue to make the academic success of every student-athlete a priority."
For the fall, the women's basketball team led the way among all teams with a term GPA of 3.842, while baseball earned the top term GPA by a Huskie men's team with a 3.624. Half of all NIU teams posted a fall grade point average of 3.5 or higher with gymnastics (3.750), softball (3.742) and women's golf (3.714) joining women's basketball and baseball in the top five. Every NIU team achieved a term GPA higher than 2.8.
Huskie student-athletes' cumulative GPA stands at 3.329 with 15 NIU programs' cumulative GPA above 3.0. Gymnastics owns the top cumulative GPA following the fall semester with a 3.797 with women's basketball (3.773) and men's tennis (3.708) also topping the 3.7 mark and another five programs above 3.5.
In all, 312 of NIU's 400-plus student-athletes earned a GPA of 3.0 or higher for the Fall 2022 semester with 59 posting a perfect 4.0.
The 11 student-athletes who earned degrees included six members of the 2022 NIU Football team – three who completed master's degrees – with five different sports represented overall.
Tom Foley, Football
Kylee Hermeyer, Women's Soccer
Michael Kennedy, Football (Master's)
Chelby Koker, Women's Basketball
Claudia Muessig, Women's Soccer
Izzak Olejnik, Wrestling
Malik Peters, Baseball
Kyle Pugh, Football (Master's)
Nick Rattin, Football
Liam Soraghan, Football (Master's)
Tristen Tewes, Football