94.9 WDKB and First National Bank presented this week's #HometownHero award to:
Brad Hoey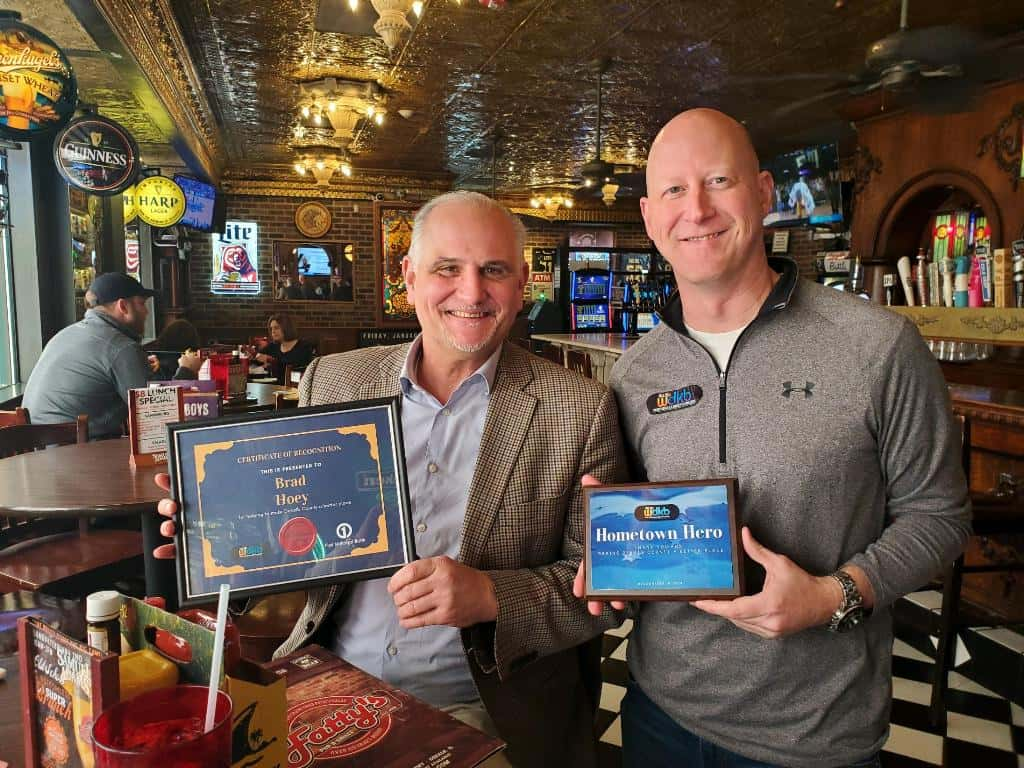 If there is someone who beams with pride for NIU and DeKalb County – it's Brad Hoey! Brad is an NIU alumni who went on to serve 29 years at the university. He just retired this month! Brad was heavily involved with NIU Athletics. He was producer, director, and host of Inside Huskie Sports – a show which ran for 10 seasons on FoxSportsNet and Comcast SportsNet Chicago. It was the first institutionally-produced collegiate sports highlight show to air on CSNC. Brad produced countless highlight and promotional videos for NIU Athletics and was a public address announcer for Huskie men's and women's basketball, football, volleyball, baseball, softball, and wrestling. He has hosted and emceed dozens of university events and fundraisers like the Huskie Football Awards Banquet and the NIU Athletics Hall of Fame Induction Ceremony.  Brad also served at NIU as Director of Internal Communications, Director of Media Relations, and Director of the Huskies Varsity Club.
Brad now serves as the president of the DeKalb County Convention and Visitors Bureau board where he helped to craft the DeKalb County/NIU bid to host the IHSA Football State Championships through 2021. He also helped to develop the IHSA Destination DeKalb brand and is vital to related marketing initiatives.
Outside of his passion for athletics, Brad also serves as chair for the City of DeKalb's Citizens Community Enhancement Commission, which works to develop the image and reputation of DeKalb. He is involved in the #ProudlyDeKalb group and a member of the Family Service Agency board of directors.
Thank you Brad for your decades of work shining a spotlight on DeKalb County. Thank you for sharing your passions with this community and thank you for being an incredible spokesperson for Northern Illinois. People like you make DeKalb County a better place!