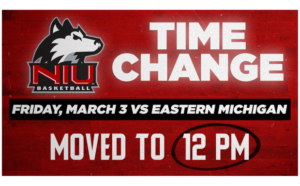 Due to travel issues and safety concerns, the Northern Illinois University men's basketball regular season finale against Eastern Michigan on Friday, March 3, has been brought forward to a 12 noon CT tipoff. Tickets for the originally scheduled 7 p.m. start will be honored and NIU will hold its Senior Day ceremonies following the game.
The contest will also be available on ESPN3, 94-9 WDKB and The Varsity Network app.
Last time out against Buffalo, David Coit (Columbus, N.J.) returned to action after missing the previous three games due to injury. Coit tied a team-high with 18 points, going 7-of-12 from the field and 4-of-8 from three-point range. With his four triples against the Bulls, Coit moved into second on NIU's single-season three-point field goals list with 79. Eugene German holds the NIU single season record with 87 during the 2018-19 campaign. Coit is averaging 2.9 triples per game, second in the Mid-American Conference and 29th nationally.
Kaleb Thornton (Bolingbrook, Ill.) just missed his third double-double of the season with 10 points and nine assists against Buffalo. Thornton is averaging 5.1 assists per game this season, second-best in the MAC and 37th nationally. His 142 assists this year is the second-best single-season mark in program history, behind only Jay Bryant's 163 in 1979-80.
In conference games, Thornton leads the MAC in both assists and steals, averaging 6.4 assists and 2.3 steals per game.
The Eagles bring an 8-22 overall record to DeKalb, including a 5-12 mark in Mid-American Conference play. Eastern Michigan is ranked third in the MAC, and 20th nationally, in free throw percentage, shooting 77.1 percent. The Eagles are also fourth in the MAC in free throw made, averaging 14.4 per contest.
Three players score in double figures for the Eagles, led by 19.7 points per game from Emoni Bates, who also averages a team-best 5.8 rebounds per contest. Tyson Acuff adds 13.9 points per game and Noah Farrakhan is scoring 12.2 points per contest.
In the first meeting of the season, the Huskies led wire-to-wire for an 88-67 victory at Eastern Michigan (Jan. 21). NIU shot 59.3 percent (32-of-54) from the floor in the contest.
Next week, the Huskies will travel to Cleveland, Ohio, for the Mid-American Conference Tournament at Rocket Mortgage Fieldhouse. The quarterfinals are scheduled for Thursday, March 9, with NIU's opponent and game time still to be determined.