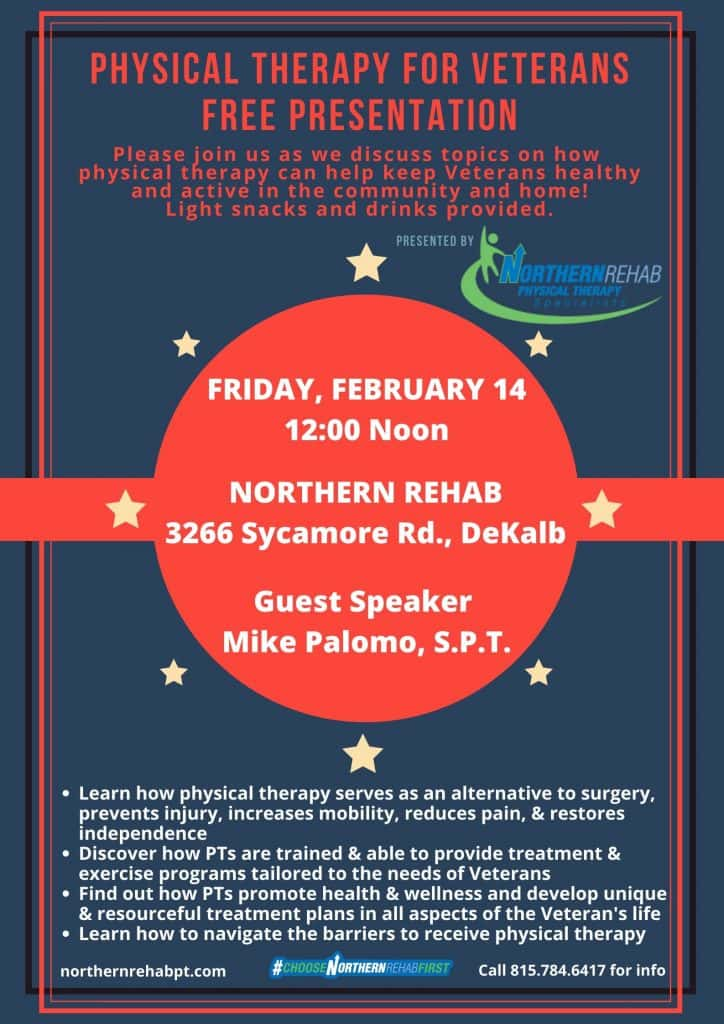 Northern Rehab Physical Therapy Specialists will be hosting a FREE Physical Therapy for Veterans Presentation on Friday, February 14 at 12:00 noon at Northern Rehab's Main office located at 3266 Sycamore Road in DeKalb.
This presentation will be led by Mike Palomo, S.P.T., a Northern Illinois University physical therapy student training with Northern Rehab's Physical Therapist, Todd Vanatta, as part of his clinical instruction. All Veterans are invited to join this free presentation that discusses how physical therapy can help keep Veterans healthy and active in the community and home. Topics include leaning how physical therapy serves as an alternative to surgery, prevents injury, increases mobility, reduces pain, and restores independence. Additionally, discover how physical therapists are trained and able to provide treatment and exercise programs tailored to the needs of Veterans, find out how physical therapy promotes health and wellness and develop unique and resourceful treatment plans in all aspects of the Veteran's life, and learn how to navigate the barriers to receive physical therapy. All Veterans and their family members are welcome to attend this free event. Light snacks and drinks will be provided.
For additional information about this event, please call Mike Palomo or Todd Vanatta at Northern Rehab at 815.784.6417. You may also find more information at www.northernrehabpt.com.