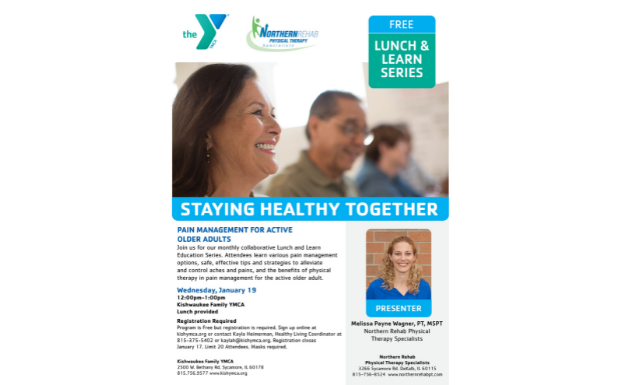 The Kishwaukee Family YMCA and Northern Rehab Physical Therapy Specialists are resuming their collaborative monthly Lunch & Learn Education Series on Wednesday, January 19 from noon – 1:00 pm held at the Kishwaukee Family YMCA in Sycamore. This event is free and open to the public and lunch will be provided. Masks are required and all COVID guidelines will be followed.
January's Lunch & Learn topic is "Pain Management For Active Older Adults" presented by Northern Rehab's Melissa Payne Wagner. Attendees learn various pain management options; safe, effective tips and strategies to alleviate and control aches and pains; and the benefits of physical therapy in pain management for the active older adult.
This free event is open to the public (YMCA membership is not required), but space is limited to 20 attendees and registration is required. You may sign up online at kishymca.org or contact Kayla Heimerman, YMCA Healthy Living Coordinator, at 815.375.5402 or kaylah@kishymca.org. Registration closes on January 17.