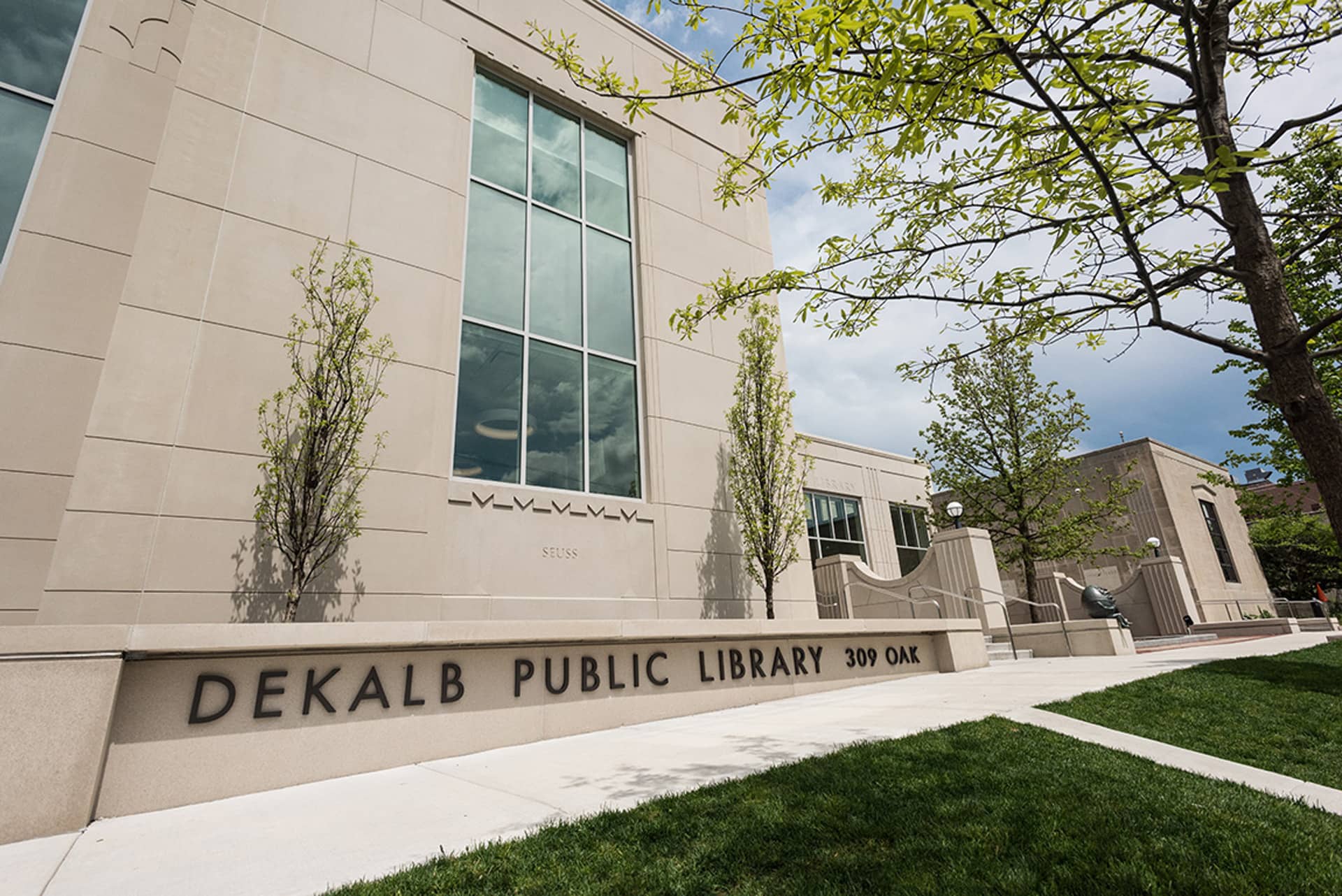 Per The DeKalb Library Press Release:
The DeKalb Public Library will be closed for in-person services until further notice beginning Wednesday, November 18. Recent guidance from the DeKalb County Health Department has indicated that with COVID-19 cases on the rise, organizations have been asked to close their doors for the foreseeable future. The library will continue to update the community as the situation progresses.
The library will remain open for curbside pick-up. Curbside hours are as follows:
Mondays, 4:00 – 7:00 p.m.
Wednesdays, 9:00 a.m. – 12:00 p.m.
Thursdays, 4:00 – 7:00 p.m.
Saturdays, 1:00 – 4:00 p.m.
To place a hold for curbside pick-up patrons can email the library at reference@dkpl.org, call the library as (815) 756-9568, or place a hold directly through the library's online catalog. You will be notified once your hold is ready to be picked up. Returned items will be quarantined for three days after being returned to limit the spread of COVID-19. During this quarantine period they will remain checked out to your account and will only be processed after the quarantine period has passed. Please take this into consideration when managing the items on your account. Materials will be checked in after quarantine and will not accrue fines.
When picking up items, please park in one of the dedicated curbside pick-up spots. Call the phone number and extension on the sign and give the library employee your name and card number. If you are picking up items for another patron, you will need their library card number as well. You may return items at any time to the outside materials return slot.
When using curbside pick-up please respect social distancing protocol and library instructions. The health and safety of our staff and patrons is our top priority.
We recommend that everyone stay informed of the latest updates on the Coronavirus and undertake appropriate actions to remain healthy and limit the spread of the virus.
Where to get facts
Call Illinois' COVID-19 Hotline at 1.800.889.3931 or email dph.sick@illinois.gov.
Read statements from the DeKalb County Health Department. (https://health.dekalbcounty.org/coronavirus/)
Get updates from the Illinois Department of Public Health (www.dph.illinois.gov/topics-services/diseases-and-conditions/diseases-a-z-list/coronavirus), the Centers for Disease Control and Prevention (https://www.cdc.gov/coronavirus/2019-ncov/index.html) and the World Health Organization (https://www.who.int/emergencies/diseases/novel-coronavirus-2019).
How to keep using the library remotely
Your Digital Library is available anywhere, anytime at dkpl.org. You can place holds and renew items, borrow books, movies, TV shows, and music, and do online research.
As always, we're here to answer your research questions. Call us at (815) 756-9568 or email us at reference@dkpl.org. We will be open for reference during our current library hours. We will also be offering make-and-take crafts for curbside pick-up. To request a craft, you must call or email the library in advance. These will be available while supplies last.
All virtual library programs on Zoom and Facebook Live will continue. We have suspended all in-person programs until further notice.
Visit www.dkpl.org, like us on Facebook, and follow us on Twitter for other library news and events.