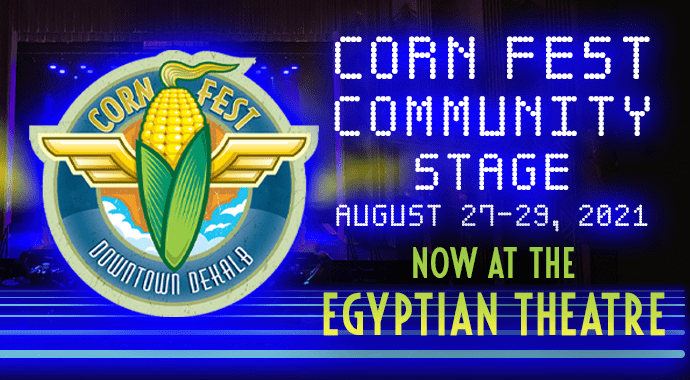 There will be plenty of music at The Egyptian Theatre this year for Corn Fest!
This year, August 27 – 29th, Corn Fest's Community Stage will be held in the Egyptian Theatre! This means, AIR CONDITIONING!!! The concession stand and bar will be open, and the cost is FREE!
Here is the lineup for the incredible acts for 2021!
Friday, August 27, 2021
5:00 PM – Banda NIU
5:45 PM – TBA
6:30 PM – Jon Babin
7:15 PM – Huskie Hunks
8:00 PM – Jazz in Progress
Saturday, August 28, 2021
11:00 AM – Cohesion
11:45 AM – Stage Coach Players
12:30 PM – Sycamore/Rochelle Performing Arts Academy
1:15 PM – DeKalb High School Band
2:00 PM – NIU World Music Ensembles
2:45 PM – TBA
3:30 PM – CCT
4:15 PM – Ethan Larson
5:00 PM – Live Wire Brass
Sunday, August 29, 2021
11:00 AM – Kishwaukee River Boys Traditional Jazz Band
11:45 AM – Just For Kix DeKalb
12:30 PM – NIU Steelband
1:15 PM – Arco Musical
2:00 PM – Northern Illinois Dance Center
2:45 PM – Beth Fowler School of Dance
3:30 PM – Dimensions Dance Academy