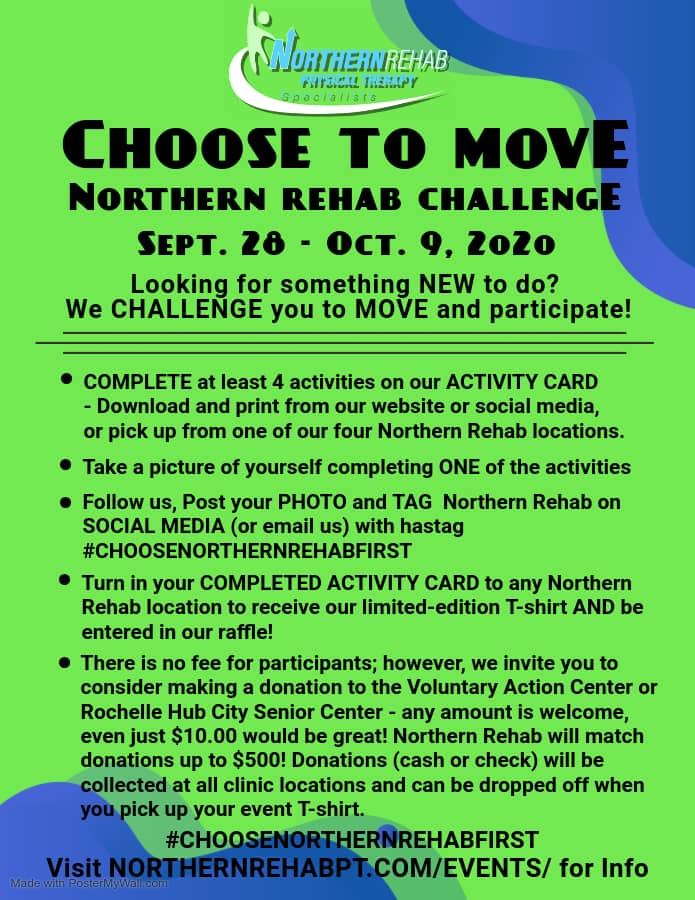 Have you and your family been looking for something fun and NEW to do in our community? Northern Rehab Physical Therapy Specialists challenges you to move in their inaugural "Choose To Move Northern Rehab Challenge". This event/fundraiser for the Voluntary Action Center takes place from Monday, September 28 through Friday, October 9, as participants can choose to do a variety of new activities anywhere, at their convenience, anytime within our community.
Participants pick up or download an Activity Card which includes a variety of activities to do during the event timeframe, choose 4 (or more) activities from the card, take a picture doing one of the activities, then post it on Northern Rehab's social media or email them with permission to post. Participants then bring their completed Activity Card to any of Northern Rehab's 4 locations to receive a limited-edition event t-shirt and be entered in a raffle.
There is no cost for participants; however, in lieu of a registration fee, Northern Rehab invites you to consider making a donation to the Voluntary Action Center; any amount is welcome! Donations will be collected at all Northern Rehab clinic locations and can be dropped off when you pick up your event t-shirt.
A great family-friendly community event for everyone of all ages to participate in at your convenience while supporting the VAC! Will YOU accept the Choose To Move Northern Rehab Challenge?
For more details about this event please visit northernrehabpt.com/events, call 815.756.8524, or follow Northern Rehab on Facebook, Instagram and Twitter.