Per Kishwaukee College Press Release: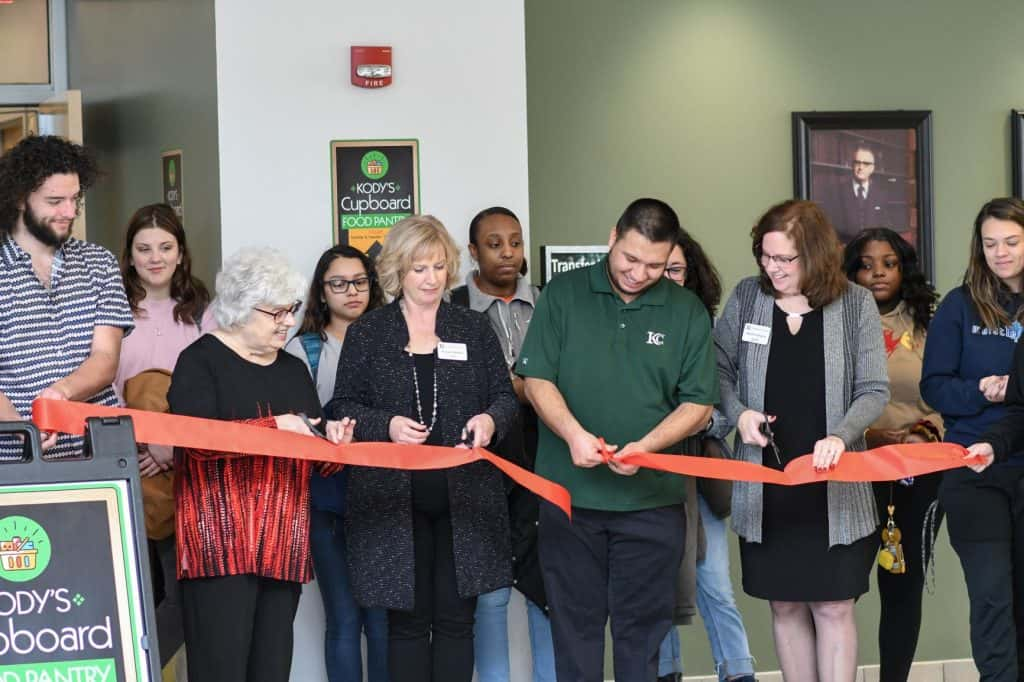 Kishwaukee College held a ribbon cutting ceremony to celebrate the opening of the College's new food pantry, Kody's Cupboard, on January 22. Kody's Cupboard has been developed to provide supplementalresources to alleviate hunger and meet basic needs forthe Kish campus community. The pantry is located into the student involvement office (C1128) and is open Mondays and Tuesdays from 9:00 am – 2:00 pm.
"Kish is committed to providing supportive services for our students," saidMichelle Rothmeyer,vice president of student services. "Studies show that hunger and food insecurities prohibit students from achieving their college goals. Our students have also shared with us their concerns, which is why we decided to bring a food pantry to campus."
Reducing barriers is an important factor in students achieving academic success. Kody's Cupboard is one way the College is helping to combat food insecurity and hunger. The food pantry will provide free supplemental food and personal care products to the Kish campus community regardless of need. Students, including GED and ESL students, are eligible for items in the pantry.
"The Board of Trustees unanimously approved a food pantry for campus, an initiative developed by the staff and faculty. It's one way that we take some of the stress off from going to college," remarked Kathy Spears, board secretary. "It has been embraced by the faculty and staff at the College and we believe this resource will prove a benefit for Kishwaukee College students."
Kody's Cupboard is currently accepting donations of unopened,nonperishable food items, baby food and personal care products. Food donations can be dropped off at the student involvement office (C1120) on Kish campus.
Through the generosity of donors, the Kish Foundation has already contributed $1800 towards Kody's Cupboard. Monetary donations can be made out to the Kishwaukee College Foundation and submitted to the administrative office (C2160).
For more information on giving or about Kody's Cupboard, contact administrative assistant Madeline Sandgren at msandgren@kish.edu or 815-825-9528.