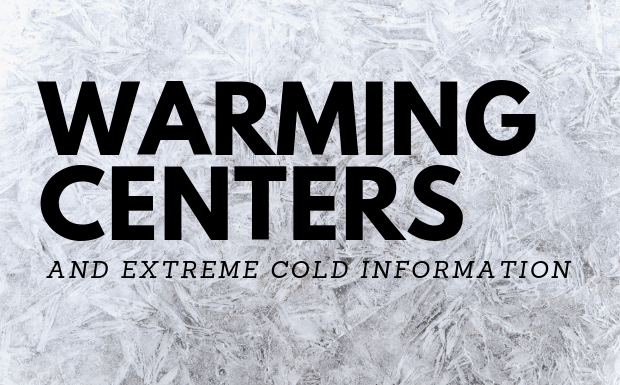 WARMING CENTERS
Warming centers are heated public facilities where any resident can go to during periods of extreme cold temperatures to stay warm and safe. The following facilities have been designated as an area "warming center" for those who need temporary relief from the cold: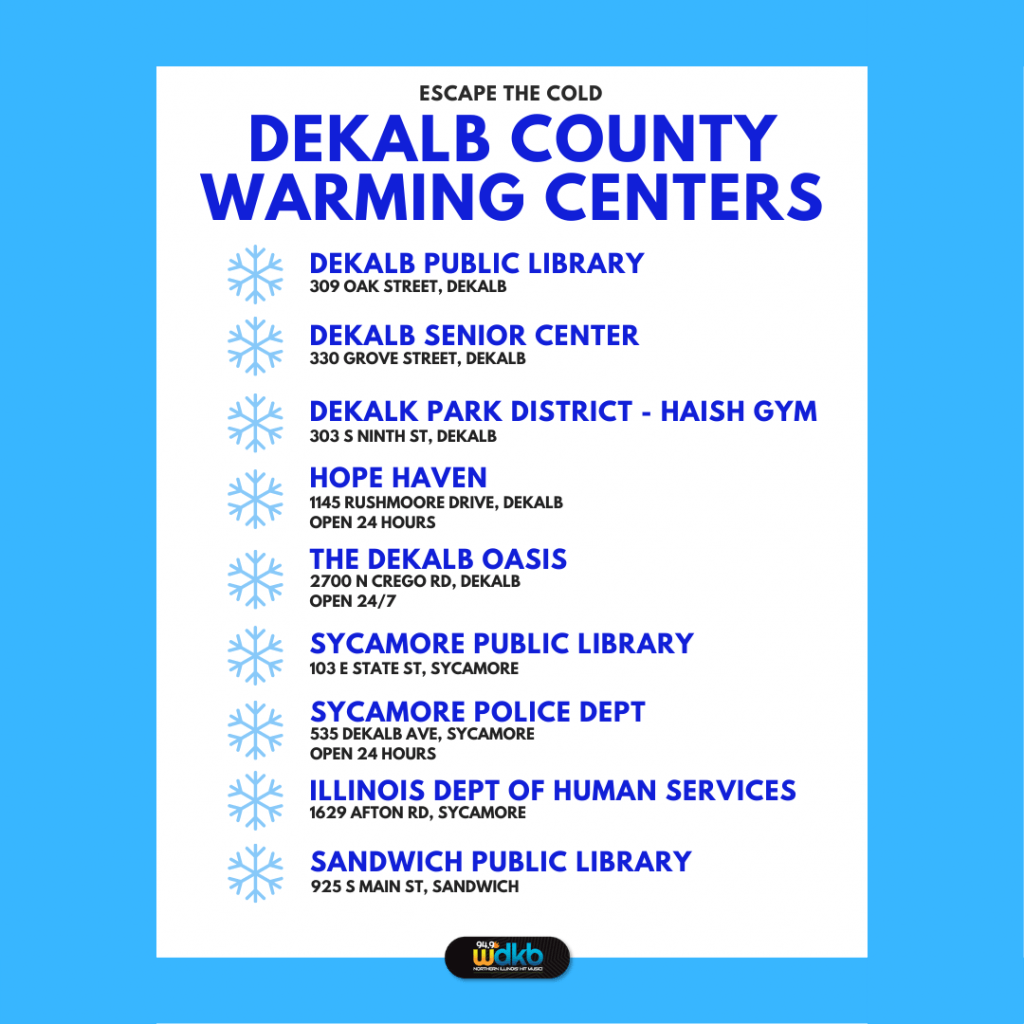 Sycamore Police Department
535 DeKalb Avenue
Sycamore, Il 60178
Open 24 hours, every day
Sycamore Public Library
103 E. State Street
Sycamore, IL 60178
9:00 a.m. through 8 p.m., Monday through Thursday
9:00 a.m. through 6 p.m., Friday
9:00 a.m. through 5 p.m., Saturday
1:00 p.m. through 5 p.m., Sunday
Sandwich Public Library
925 S Main Street
Sandwich, IL 60548
10 am – 8 pm, Monday through Thursday
10 am – 5 pm, Friday
10 am – 4 pm, Sat
DeKalb Senior Center
330 Grove Street
DeKalb, IL 60115
9:30 a.m. through 4:30 p.m. Monday through Friday
DeKalb Park District – Haish Gymnasium
303 S. Ninth Street
DeKalb, IL 60115
6:00 a.m. through 7:45 p.m. Monday through Wednesday
6:00 a.m. through 6:45 p.m. Thursday
8:00 a.m. through 3:45 p.m. Friday
10:00 a.m. through 11:45 a.m. Saturday
DeKalb Public Library
309 Oak Street
DeKalb, IL 60115
9:00 a.m. through 9:00 p.m. Monday through Thursday
9:00 a.m. through 6:00 p.m. Friday
9:00 a.m. through 5:00 p.m. Saturday
1:00 p.m. through 5:00 p.m. Sunday
Illinois Department of Human Services
1629 Afton Rd, Sycamore
Mon – Fri, 8:30 am – 5 pm
The DeKalb Oasis
2700 N Crego Rd, DeKalb
OPEN 24/7
If the above Warming Centers are closed, Hope Haven is a no turn away shelter. Hope
Haven is located at 1145 Rushmore Drive in DeKalb.
Call 815-748-2070 during the hours of 7:30 a.m. and 4:30 p.m. and 815-748-8460 (press 9) after hours to:
Locate a Warming Center;
Report inadequate heat in a residential building; and/or
Resolve a heating problem with your landlord. Landlords must heat residential buildings to at least 68 degrees during the hours of 6:30 a.m. and 10:30 p.m. and 62 degrees during other hours, per City of DeKalb Municipal Code Chapter 24.
---
WINTER WEATHER PREPAREDNESS
Check on elderly family and neighbors
In addition, all residents are encouraged to check on elderly neighbors and family members to ensure they are safe and as comfortable as possible. If anyone needs urgent medical treatment, contact 911 immediately.
During the winter months, try to keep your automobiles full of fuel
A full fuel tank helps to reduce the chance of getting any moisture from a vehicle fuel tank into the vehicles fuel lines. Also, if your vehicle is stranded due to slippery conditions, a fuller fuel tank may provide your vehicle a longer period to provide warmth to the occupants until they are assisted.
When outside, dress appropriately and maintain personal awareness
Wear loose fitting, lightweight layered clothing. Layers can be removed if perspiration and subsequent chills become a problem.
Wear a hat, half of body heat is lost through the top of the head.
Keep your feet dry, wool socks are best if you are going to be out in the cold.
Cover your mouth and nose with scarves to help protect your lungs from cold air.
If you become stranded, stay dry and cover all exposed body parts.
Avoid overexertion, for example when shoveling snow. Do not ignore chest pain or tightness in your chest.
Watch for signs of frostbite such as numbness or white pale appearance to the skin.
Watch for signs of hypothermia such as slurred speech, memory loss, uncontrollable shivering, disorientation and exhaustion.
Seek medical attention for chest pain, frostbite or hypothermia as soon as possible.
---
WINTERIZING YOUR HOME
Make sure your home is ready for another Midwest winter with these Fall Home Maintenance Tips from Blain's Farm & Fleet:
Check and Seal All of Your Windows and Doors – A sturdy, tight window or door lock is key to keeping the frame pressed tightly into the window sill or door jamb. This tight seal will keep warm air from escaping and will help save you money on your heating bill. Look for air leaks around your windows and doors. If you need to insulate them, Blain's Farm & Fleet recommends the 3M Indoor Window Insulator Kit. Also, make sure thecaulking around your doors and windows is sufficient to reduce the heat loss that occurs during winter.

Inspect Your Home for Water Leaks -Check all the faucets, appliances and pipes for any leaks. (Helpful tip: leave a paper towel around the outside of your dishwasher while it's in use to see if there are any leaks)
Protect your Home's Plumbing and Electrical System from Cold Weather – A key part of winterizing your home is making sure your plumbing doesn't freeze. Exposed pipes are most vulnerable to freezing. Your pipes should be well insulated with Polyethylene Tube Pipe Insulation or heat tape to keep them warm. You can protect your outdoor faucets with an M-D Outdoor Faucet Cover. These two steps only take a few minutes of your time and will save you from dealing with a busted pipe from the cold temperature.
Perform Regular Maintenance on Your Heating System – The most important factor when winterizing your home is making sure your house is warm, safe and ready for the winter ahead. Make sure you have your heating system checked, and replace your furnace filter to allow the system to work most efficiently. Inspect and clean any dust from your smoke and carbon monoxide alarms. Change batteries if necessary.
Winterizing your home properly can help prevent you from dealing with any unexpected and inconvenient disasters down the road.
Prepare for possible isolation in your home for several days. Prepare an emergency supply for your home and include the following:
Water, one gallon of water per person per day for at least three days, for drinking and sanitation
Food, at least a three-day supply of non-perishable food
Battery-powered or hand crank radio and a NOAA Weather Radio with tone alert and extra batteries for both
Flashlight and extra batteries
First aid kit
Whistle to signal for help
Moist towelettes, garbage bags and plastic ties for personal sanitation
Wrench or pliers to turn off utilities
Manual can opener for food
Local maps
Cell phone with chargers, inverter or solar charger
Have emergency heating equipment available so that you can keep one room of your house warm to be livable. Always ensure proper ventilation.
Create a household family disaster kit for emergencies. For ideas visit website: http://www.illinois.gov/ready
Prepare at winter kit for your vehicle(s) include the following:
shovel
windshield scraper and small broom
flashlight
battery powered radio
extra batteries
water
snack food
matches
extra hats, socks and mittens
first aid kit with pocket knife
necessary medications
blanket(s)
tow chain or rope
road salt and sand
booster cables
emergency flares
fluorescent distress flag
For additional ideas visit website: http://www.ready.gov/car
Additional preparedness information is available from FEMA at the following link: http://www.ready.gov/winter-weather
---
• Limit their time outside. Dogs, like humans, can experience hypothermia and frostbite, especially on earflaps and the tips of their tails.
• Take age, breed, coat and other factors into account. Pets with short hair — or short legs — get cold faster. Dogs with certain medical conditions, including diabetes and kidney disease, have more trouble with extreme temperatures, as do very young or elderly pets.
• Bundle them up. If your pet is uncomfortable in the cold, consider a sweater or dog coat. And if you try boots, make sure they fit properly.
• Keep your dog on a leash and avoid ice and frozen ponds.
• Be alert for signs of trouble — anxiety, weakness, whining or looking for a place to burrow could be signs of hypothermia. Get pets inside, and contact your vet if you suspect hypothermia or frostbite.
• Wipe their paws, feet, legs and bellies when they come in. This not only helps remove ice and snow, but cleans off chemicals such as de-icers that can be toxic. Monitor their paws for injuries and ice between their toes. Keep the fur on their feet trimmed to prevent ice balls between toes and pads.
• Don't leave pets unattended in cars.