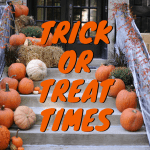 Check out this list of designated Halloween "Trick or Treat" times across Northern Illinois!
Beloit: 5-7 p.m.
Belvidere: 4-8 pm
Byron: 5-7 p.m.
Caledonia: 6-8 p.m.
Capron: 4-7 p.m.
Cherry Valley: 5:30-7:30 p.m.
Cortland: 4-8 p.m.
Davis Junction: 5-7 p.m.
DeKalb: 4-8 p.m.
Dixon: 5-7:30 p.m.
Genoa: 4-7 p.m.
Hinckley: 4-8 p.m.
Loves Park: 5:30-7:30 p.m.
Machesney Park: 5-7:30 p.m.
Oregon: 5-8 p.m.
Pecatonica: 2-4 p.m. (Sunday, Nov. 3)
Poplar Grove: 4-7 p.m.
Rochelle: 5-8 p.m.
Rockford: 5:30-7:30 p.m.
Sandwich: 4-7 p.m.
Shabbona: 4-7 p.m.
Stillman Valley: 5-7 p.m.
Sycamore: 4-8 p.m.
Waterman: 4-8 p.m.
Winnebago: 2-4 p.m. (Sunday, Nov. 3)
---
The DeKalb Police Department recommends the following safety tips to keep children safe during Halloween:
*Young children should Trick or Treat with an adult
*Older children should Trick or Treat in large groups
*Children should walk on the sidewalk NOT in the street
*Children should cross the street at intersections or crosswalks
*Children should wear reflective clothing and carry flashlights or glow sticks
*Children should NOT wear all black clothing, this makes them virtually invisible to drivers
*Children should NOT enter a stranger's home for ANY reason
*Parents should inspect their child's candy before consuming
Caution to Drivers:
*Drive slow and be on the look-out for young children
*Enter & Exit drive ways slowly and carefully
*Back out of your drive way with caution
*Do NOT be distracted inside your vehicle with your radio, cell phone or other items
If you have any questions regarding the Halloween Holiday contact the DeKalb Police Department at 815-748-8400.
Have a Safe & Happy Halloween!